Why Choose Hubspot?

9 HubSpot Benefits for your Business Growth

!

In the following article, we are going to explain the main reasons why HubSpot is The Growth Platform you need for your business.
But, before diving into the details, we should first explain what HubSpot is.

What is HubSpot?
An Inbound marketing tool? It used to be once but not defined as an Inbound tool now.
A marketing automation tool? It's more than that.
A WordPress alternative? It's something beyond building websites and blogs
A full-suite CRM? Trying to be.
So what exactly Hubspot is?
We consider HubSpot as a growth engine covering holistically all dimensions of your business be it lead generating or nurturing, sales or marketing automation, servicing client and managing feedback, building websites and blogs, or most importantly relationship building with clients.
Now, after mentioning some important things about HubSpot, let's dive into the reasons why you should definitely go for HubSpot.
1. Intuitive and clean user interface.
One of the main reasons why you should choose HubSpot is because of its intuitive and clean user interface.
When you design anything (whether it's a website, an app, or a digital product) you want it to be easy for the user because a user will not have the best, not even good, experience if the design of it is not intuitive or clean.
HubSpot User interface is sleek, clean, and intuitive giving it an advantage over various individual category leaders e.g. Salesforce and MS Dynamics in CRM, Zendesk in Support, and WordPress in website building.
As per Harvard Business Review, close to 90% of CRM implementation and adoption projects fail and an Intuitive and clean interface is the deal-maker when it comes to the adoption of products.
Another side of the story: Sometimes we have a trade-off between clean interface and customizability. That's why the customizability offered by Salesforce or WordPress-like tools are not provided by HubSpot though HubSpot is striking a good balance and still has the advantage of the interface.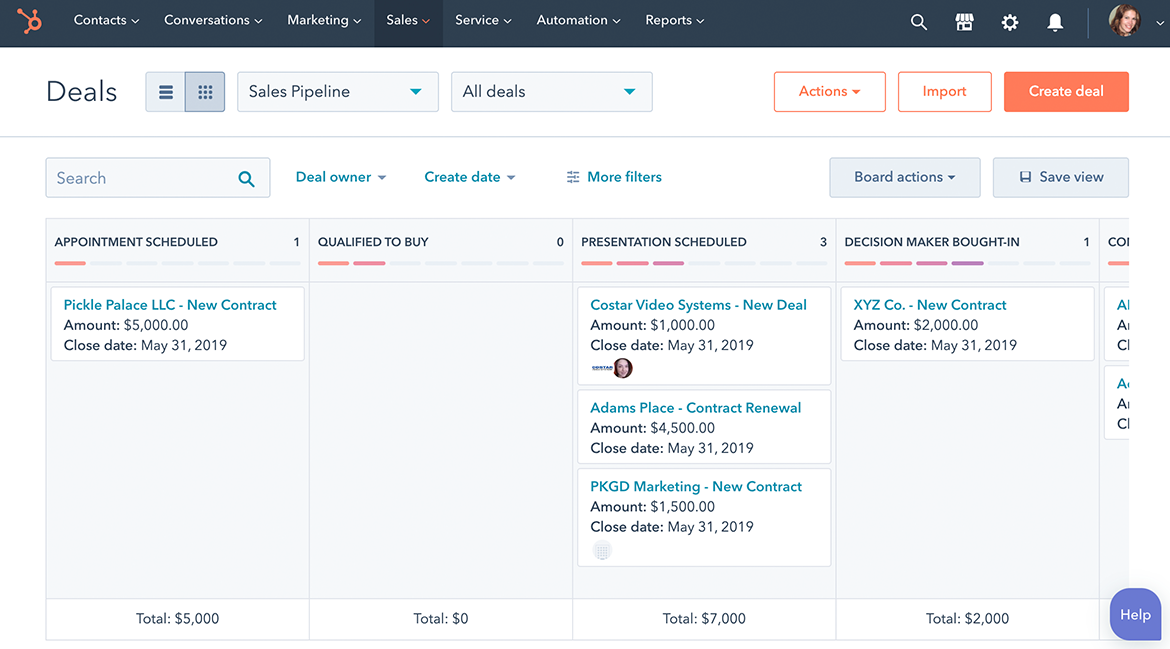 2. All-In-One tool.
One of the most important reasons which make HubSpot absolutely unique is that it is an all-in-one tool for sales, marketing, operations, support, and business management teams and it's evolving fast in all directions...
To understand that better, we need to mention that inbound marketing starts with the generation of quality traffic and HubSpot CMS offers website building tools where the technical team or even marketers can build a responsive, fast, and clean website and blog for their businesses.
Then, HubSpot offers plenty of tools for lead capturing, lead scoring, and nurturing using workflows and automated emails.
For managing leads, HubSpot offers a range of features for the sales team so they can work on leads and opportunities (Deals) and convert them into customers.
For post-closing processes, HubSpot offers custom support tools including bots, support desks, or ticketing systems.
Below provided table briefly explains various tools which can be replaced while using HubSpot
| | |
| --- | --- |
| Tools | Purpose |
| Salesforce, PipeDrive, MS Dynamics, Insightly, etc. | CRM |
| ActiveCampaign, MailChimp, Marketo, Infusionsoft, etc. | Email Marketing and Marketing Automation |
| WordPress, Wix, Squarespace, Webflow | Website Development |
| Zendesk, Freshdesk, Live Chat etc. | Live chat and customer support |
| Zapier, Integromat etc. | Connecting systems and data syncing |
Customer Relationship Management is a very complicated process and the tools needed for this are numerous. As explained earlier, we need a CMS, an automation tool, a CRM, analytics software, an email marketing platform, etc to streamline relationship management. Of course, these are not all, because, regarding your company's needs, the list may be a lot lengthier, so, for a lot of years, all the companies used to use all those tools. They were effective but as you can easily infer that distinct tools don't talk to each other and can't create a streamlined experience for your team and your customers.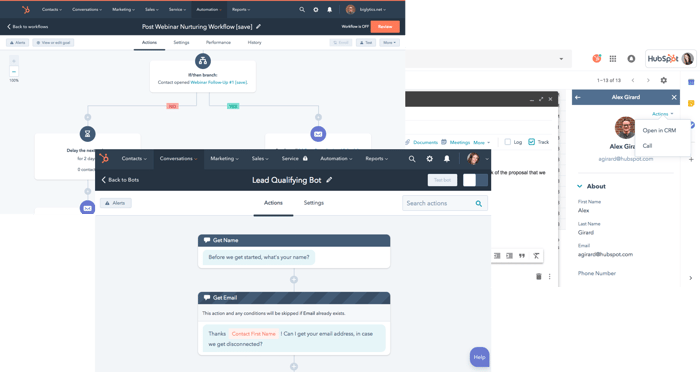 3. Customized structure.
One of the most important benefits of HubSpot CRM is that custom objects can be created based on your business needs and customization in terms of fields, pipelines, and associations can also be managed within HubSpot.
HubSpot has four standard CRM objects: contacts, companies, deals, and tickets. Except for those, there are some more objects, such as products and calls but for a long-time HubSpot lacked the customizability to have custom objects in the system but not now as according to your business needs, you can define a custom object you need, you can create custom properties, and also you can customize the associations between the custom objects you created and other objects. HubSpot Custom Objects feature was a game-changing feature added in pursuit of making HubSpot a leading option in the CRM industry.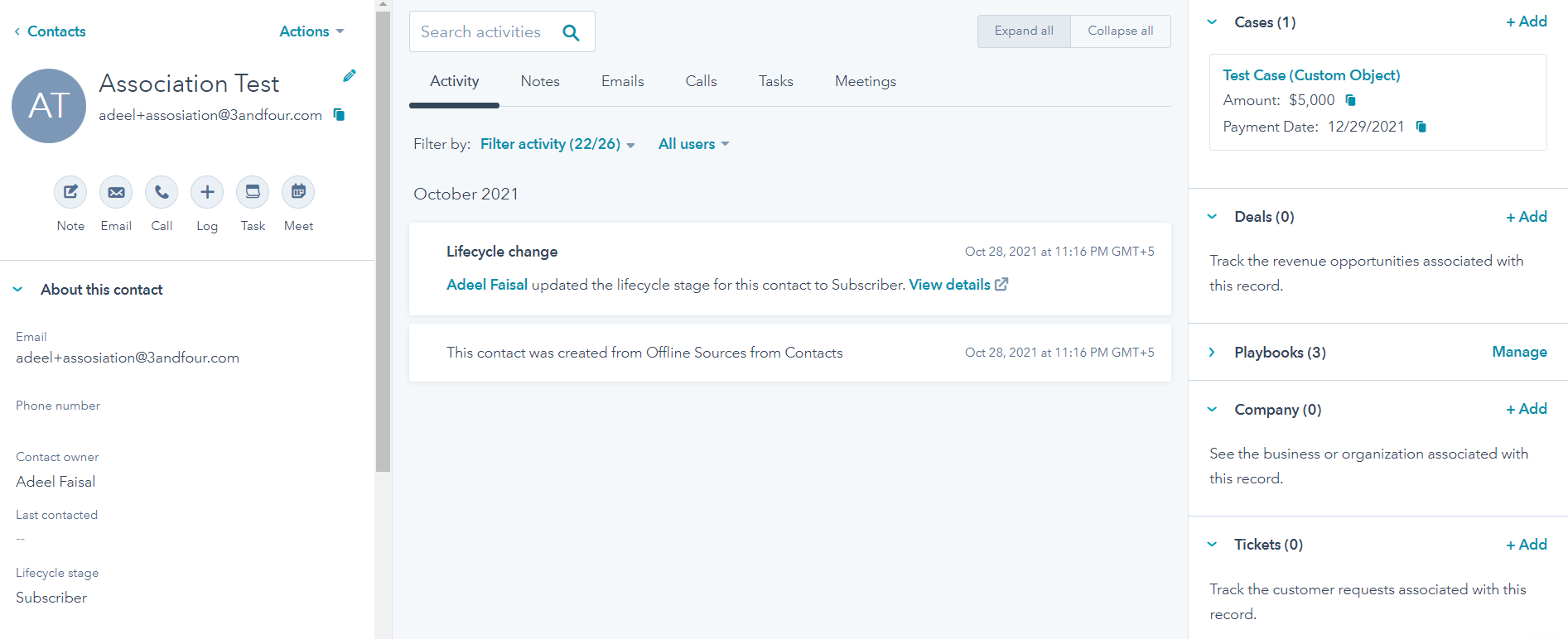 4. No-Code Customizability.
Covering why HubSpot is so popular and why more than 120,000 businesses already started using HubSpot is because it is ideal even for people who aren't tech-savvy as it is very easy to learn and customize. This means that even absolute beginners can use it easily due to the numerous built-in tools and extremely easy and intuitive settings options it has which enable you to grow your business without using a development resource.
Software development or CRM/ERP customization development resources are not only expensive but are hard to find, retain for small and medium-sized businesses.
But in HubSpot, most of the customization can be managed without development team support, making it easy to set up and maintain.
One of the core benefits of HubSpot is that HubSpot is a no-code tool for sales, operations, marketing, and support teams and this helps in many ways. First and foremost, you don't need a development team to support it as we discussed earlier. But that's not all. Your marketing team can also keep up with the fast-paced market, as customizability based on A/B testing is extremely important in growing your business, and relying on the development team for building every version of the landing page or email or website page will make your marketing operations inefficient and ineffective.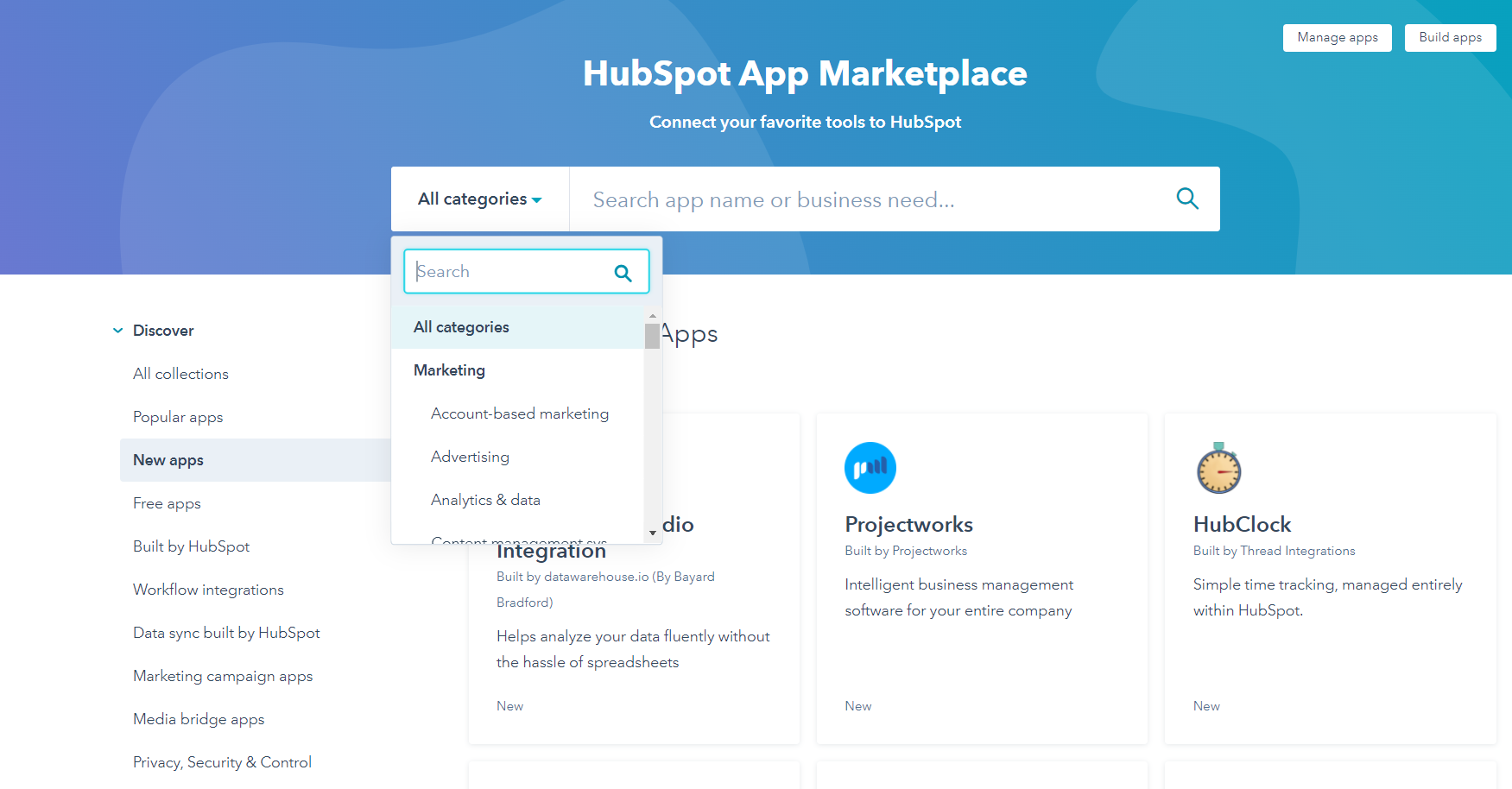 5. Extensive Marketplace
HubSpot's marketplace is very extensive and users have a lot of options for third-party tools for various purposes. Having approximately 1000+ integrations, you can maximize the potential of your tech stack. What the HubSpot App Marketplace offers is the capability to connect your system to other tools and thus, improve your customer experience.
Marketplace covers tools in various categories including but not limited to Analytics, Ecommerce, Webinar, Calling, SMS, Invoicing, LinkedIn, ERP, Payroll, and Project Management.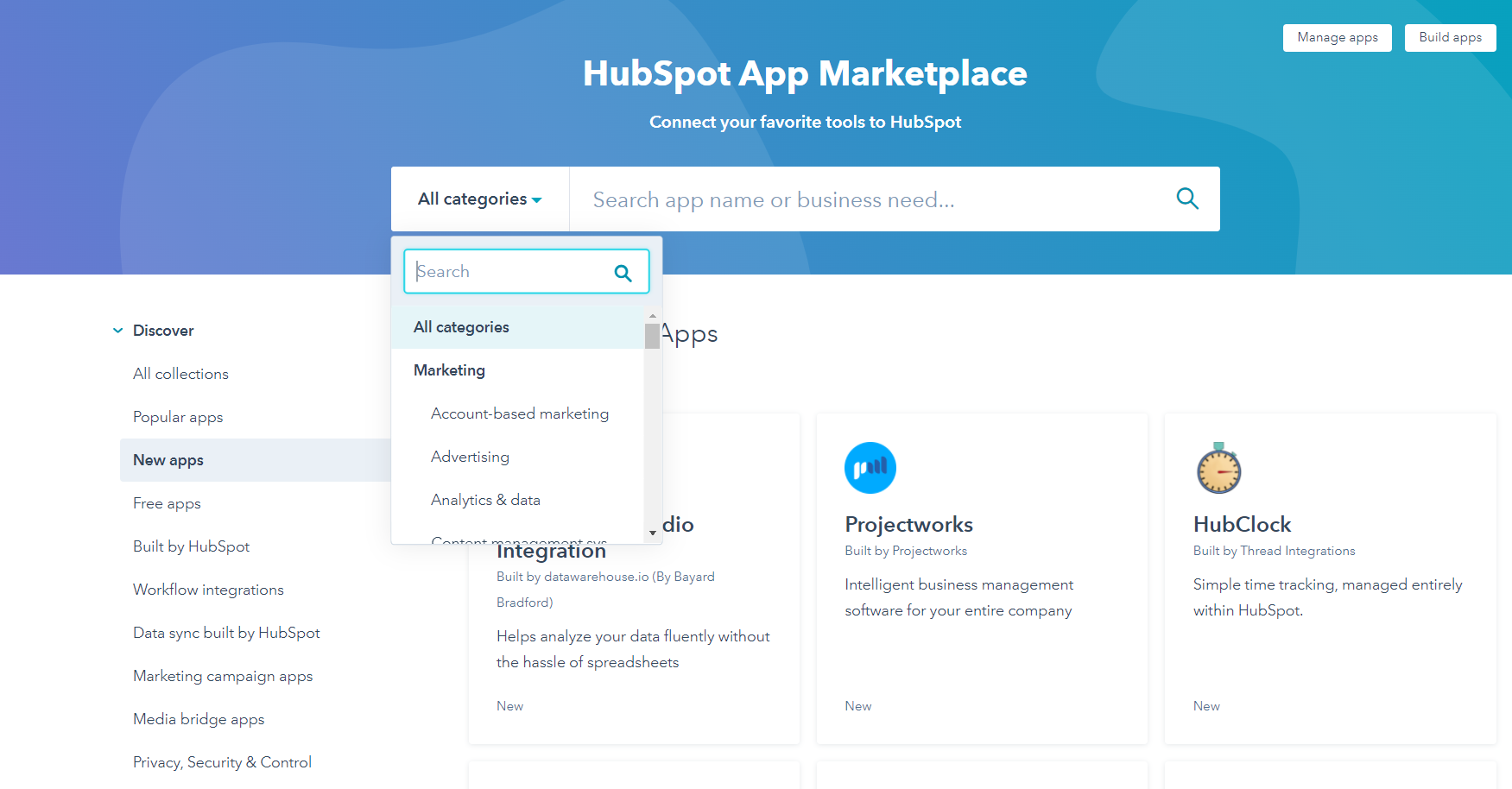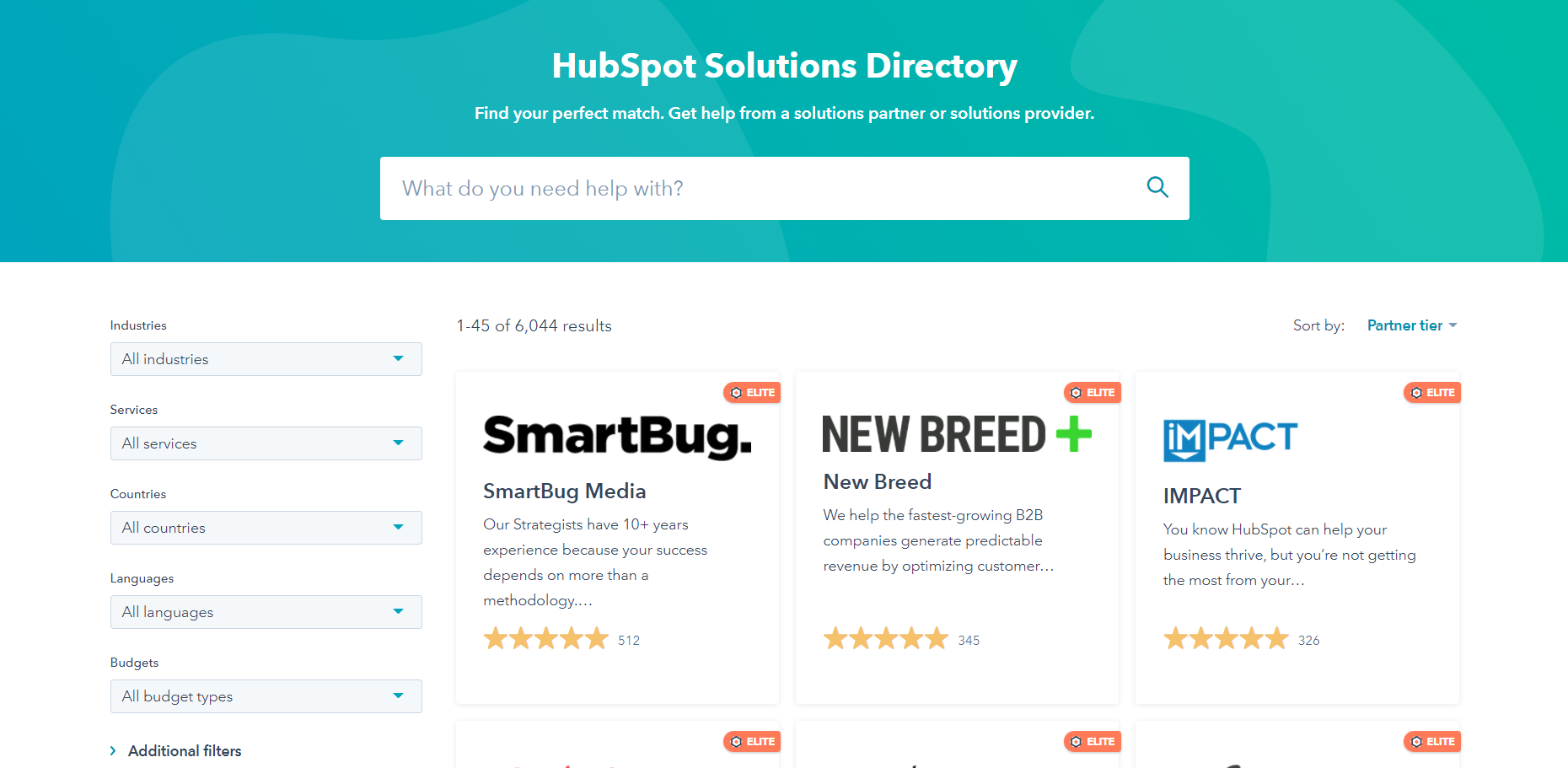 7. Reliable Support.
A really important benefit of HubSpot is that it doesn't only provide software but also provides reliable support services to its clients. This is extremely important because this helps you to ask any question you may have and get the answers you need or get in contact with professionals all around the world who will help you with anything you may need using community options.
More explicitly, HubSpot provides chat, email, knowledge base, community, and phone support making it easy for the teams to use but also to get the most out of HubSpot's products.
Here we have to note that, though the phone support is currently only offered in the English language, the chat service, the callback, as well as email support, are available in a lot of languages (English, French, German, Japanese, Portuguese, and Spanish) so you will definitely get the support you need.
The image explains the level of support different team receives based on their plans.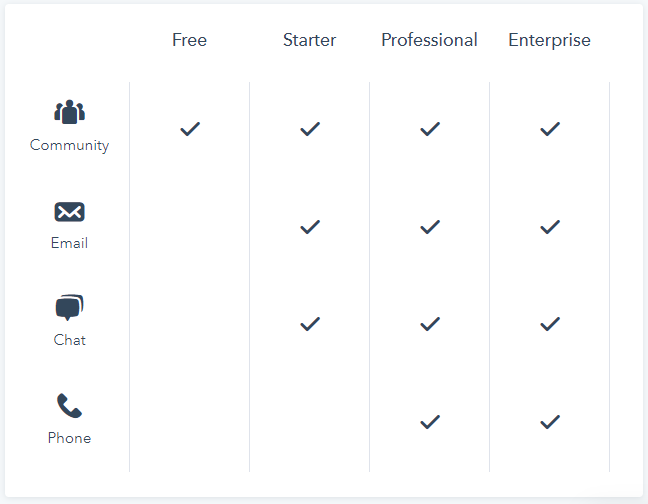 8. Users feedback.
While considering a new tool or software, feedback from existing users is as important as the features of the software.
In the sections above, we covered most of the features HubSpot provides but here we have tried to accommodate some reviews and awards HubSpot got in the last couple of years.
Customer's Choice for CRM Lead Management on Gartner Peer Insights
Ranked #3 in 2021 Best Product for Marketers category on G2
Ranked #2 in Marketing Automation Software category on TrustRadius
#1 in Top CRM Software Products category on FinancesOnline
Ranked #2 in Customer Relationship Management software category on G2
Voted Best Result for Enterprise customers on G2
#2 in Top Sales Software Products on FinancesOnline
#1 in Sales Engagement Software on G2
#1 in Customer Service Management Data Quadrant on SoftwareReviews

9. Covering startups to enterprises.
We can say that we kept the best for the end! HubSpot can fit the needs of any company, of any size.
For start-up businesses, HubSpot provides a specialized program, in partnership with various incubators and venture capitalists, which provides up to 90% of discount on all HubSpot hubs enabling startups to get access to all tools at a very minimal cost for the first three years.
While on the enterprise side, HubSpot features a lot of tools that enterprises need like custom objects, Single Sign On (SSO), Email Health Reporting, Business Units, Dedicated IPs, Hierarchical teams, Custom Behavioral Events, Attribution Reporting, Sandbox Environment, Account-Based Marketing Tools, Field-level permissions, and custom databases.

HubSpot recently "Voted Best Result for Enterprise customers on G2" and that's why organizations like Trello, Soundcloud, Loom, Reddit, and the University of San Diego have chosen HubSpot for their teams.
Conclusion
HubSpot, because of its all-around features, excellent eco-system and community, great customer support, and user feedback, became a go-to option for all growing technology companies.
That's not all, HubSpot invested heavily in R&D and added tons of features in the last couple of years and they vowed to rigorously improve the features for all Hubs in 2022 and in years to come to make it the first choice in the individual categories as well. That's why choosing HubSpot, a tool growing in terms of features will definitely help your company on a long-term basis.
LEARN
Checkout our latest guides and tricks regarding Hubspot
REPORT
Get Latest Hubspot ROI Report
HubSpot published ROI report of 100K+ businesses
Ready to Move to HubSpot and Upscale your business?
Book a Free 30 minutes consultation now with our HubSpot Expert.