Using HubSpot for Real Estate to Increase Growth & Productivity
Maximize growth and productivity with HubSpot for real estate and boost the chances of your success in real estate industry.
---
We live in a rapidly evolving world where staying at the top of your game has become crucial. With so much competition in the market, real estate companies and professionals often face challenges when dealing with customer relationship management systems (CRM). These include concerns like tracking clients, managing properties, and streamlining processes.
In an industry where preferences and customer expectations keep fluctuating, you need an efficient system to analyze data performance. That's where the HubSpot CRM for real estate comes into the picture as a de facto method for resolving all your CRM queries. The platform effectively boosts growth by addressing your challenges with its CRM platform.
Is HubSpot for Real Estate a Right Fit? Compatibility Test
HubSpot for Real Estate is an all-in-one package deal for real estate professionals. The platform offers an array of benefits, nurturing closer relationships with clients and providing a complete history of each interaction from initial contact to sale closing.
To assess the extent of compatibility between HubSpot and the real estate industry, we have pinpointed crucial features vital for a successful real estate business. We will examine whether HubSpot provides these essential functionalities or not.
| | |
| --- | --- |
| Features Real Estate Company Needs | Availability in HubSpot? |
| Reporting and Analytics | ✔️ |
| Mobile Accessibility | ✔️ |
| 360-Degree Client View | ✔️ |
| Email Integration | ✔️ |
| Automation | ✔️ |
| Import, Export, and Deduplication | ✔️ |
| Regulatory Compliance Tracking | ❌ |
| MLS Integration | ❌ |
| Pricing Trend Analysis | ❌ |
| Email Integration | ✔️ |
| Social Media Integration | ✔️ |
| Marketing Automation (Email and SMS) | ✔️ |
| SMS and Email Marketing Tools | ✔️ |
| Email Templates | ✔️ |
| Lead Scoring | ✔️ |
| Source Tracking | ✔️ |
| Marketing ROI Tracking | ✔️ |
| Lead Scoring | ✔️ |
| Lead & Contact Management | ✔️ |
| SMS and Email Marketing Tools | ✔️ |
| Transaction Management | ✔️ |
| Task and Calendar Management | ✔️ |
| Commission and Referral Tracking | ❌ |
| Lead Assignment and Routing | ✔️ |
| Payment Processing Integration | ✔️ |
| Communication Tools | ✔️ |
| Property Valuation Tools | ✔️ |
| Document Management | ✔️ |
| Synchronization with External Calendars | ✔️ |
| Call Recording and Note-taking | ✔️ |
| Property Showing Scheduling | ✔️ |
| Document e-Signature | ✔️ |
| Lead Categorization | ✔️ |
| Property Showing Scheduling | ✔️ |
| Help Desk or Support Ticket System | ✔️ |
| Lead Import and Deduplication | ✔️ |
| Live Chat or Chat Bot Support | ✔️ |
| Vendor and Service Provider Management | ✔️ |
| Maintenance Request Tracking | ✔️ |
| Feedback and Review Management | ✔️ |
| Client Portal | ❌ |
| Property Management | ❌ |
| Property Valuation Tools | ❌ |
| Comparative Market Analysis (CMA) | ❌ |
| Geolocation and Mapping | ❌ |
| Mortgage Calculator | ❌ |
| Virtual Property Tours | ❌ |
| Property Tax Management | ❌ |
The powerful HubSpot for real estate CRM solution helps maintain a robust relationship between buyers and sellers by offering tailored solutions to enhance every stage of their business requirements. Certainly, this highly compatible platform makes it an ideal choice for numerous real estate businesses.
However, HubSpot does not support some features like property tax management, virtual property tours, geolocation, and mapping which are some of the needed features for the specific real estate businesses.
Hence, as a realtor, you should define your requirements clearly before choosing HubSpot as a CRM solution. When encountering a hurdle, you must seek guidance from a HubSpot consultant to assist you in every way possible on whether you should deploy this solution and what could be the possible workaround for the unavailable features.
Common Use Cases for Real Estate
We live in a world where digital capabilities are driving customer-centricity and productivity. Real estate professionals must deploy cutting-edge technologies to engage potential customers. Teams can use HubSpot for real estate business as it helps fuel the engagement of potential prospects, spot leads, and propel conversions forward.
HubSpot Marketing Hub for Real Estate
For a real estate business, it has become imperative for marketers to stay ahead in this highly competitive landscape by adopting sophisticated strategies that leverage advanced tech-driven solutions.
Enhanced Email Automation
Email automation in HubSpot is a powerful marketing tool that enables businesses to send targeted and personalized emails to contacts. This helps streamline the emailing process based on predefined triggers or actions, enables contact segmentation, and sets up triggers to automate tailored emails. Email automation helps enhance customer engagement and nurture leads by tracking email performance based on strategies.

For instance, a real estate company can employ automated emails to send tailored property recommendations to leads based on their preferences, location, and budget. These emails can include links for instant property viewing, and scheduling, to keep leads engaged and accelerate the home-buying process while providing a personalized experience.
Ads Management
The HubSpot Ads management feature allows users to create and manage advertising campaigns from numerous platforms like Google, Facebook, and LinkedIn using one centralized dashboard. This holistic solution simplifies advertisement efforts and makes the decision-making process based on the real outcome i.e. the number of real opportunities and revenue instead of simple form submission.

Credits: Hubspot
Suppose your real estate company runs Facebook and Google Ads campaigns. Using a campaign management tool, you can centralize data from both platforms, allowing you to see that your Facebook Ads have a lower cost per sale or cost-per-customer compared to Google Ads. This insight enables you to allocate more budget to Facebook, optimizing your advertising strategy for better results in the competitive real estate market.
Property Matching and Automated Emails
Property Matching is usually used for real estate marketing automation. Whenever a new location matches a client's demands, HubSpot automatically sends an email to them to keep them engaged and informed. The feature simplifies the process of keeping clients informed about relevant listings, providing a top-notch customer experience.
Imagine a potential buyer who wants a specific type of property - let's say a pet-friendly home or a three-bedroom apartment with a backyard and a particular neighborhood. The property matching tool records their requirements in the CRM and whenever a listing matches their demands in the database, HubSpot automatically triggers an email notification to the interested buyer.
Reviews and Testimonial Automation
In the real estate business, it is advisable to always ask your clients for referrals and recommendations regarding service performance as an agent. Later on, you can utilize these testimonials as a source of developing trust between future potential clients.
For instance, whenever a client does business with you, HubSpot for real estate CRM can automate review collection and referrals through texts, emails, and social media platforms.
Broker/Agent Routing Chatbots
The customer service tools in HubSpot for real estate CRM aid in efficient client interactions with live chat rooms, emails, and chatbots. These automated chatbots route prospects toward appropriate agents, improving response time while marketers can focus on other crucial aspects of their business.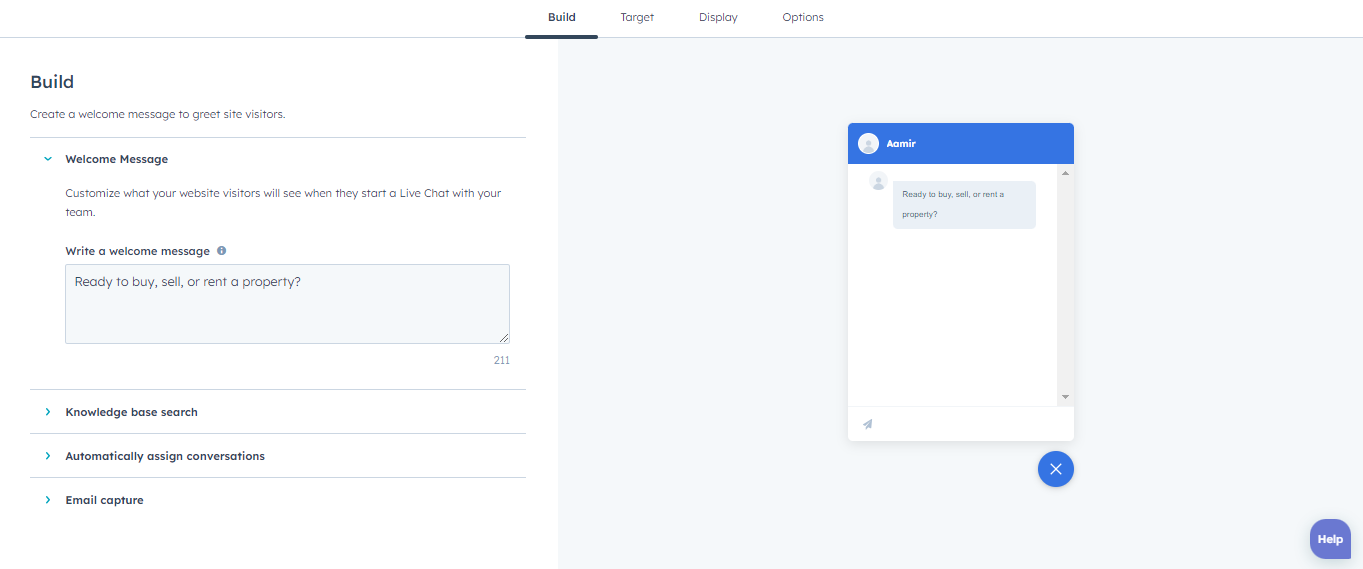 A busy real estate agency uses chatbots equipped with broker/agent routing capabilities. When a potential client starts a chat on their website and expresses interest in luxury waterfront properties, the chatbot identifies the specific criteria. It then intelligently routes the lead directly to their experienced agent who specializes in high-end waterfront listings, ensuring tailored and immediate assistance for a premium client experience. This precise routing enhances lead conversion rates and client satisfaction.
HubSpot Sales Hub for Real Estate
In addition to the marketing hub, HubSpot's sales hub allows you to keep track of your deals, and help you make your sales process more efficient. Following are some crucial features a real estate company should use to streamline their sales process and increase conversions.
Deal Management
HubSpot for real estate offers a feature called the deal dashboard that examines sales pipelines for every customer, tracking how deals are progressing. These can be broken down into stages utilizing the deal pipeline feature.

For instance, a real estate company uses deal management in HubSpot to streamline property transactions. They assign agents to specific deals, track important milestones like property inspections and appraisals, set reminders for critical dates, and maintain all client communications within each deal's record. This organized approach improves efficiency, reduces errors, and ensures smooth closings for their clients.
Lead Management
HubSpot CRM collates leads from multiple channels like emails, phone calls, and SMS into one place so you can contact them through a single platform. You can manage them efficiently by having all their contact details in one place like their name, address, and a comprehensive timeline of all touchpoints between the customer and the real estate company.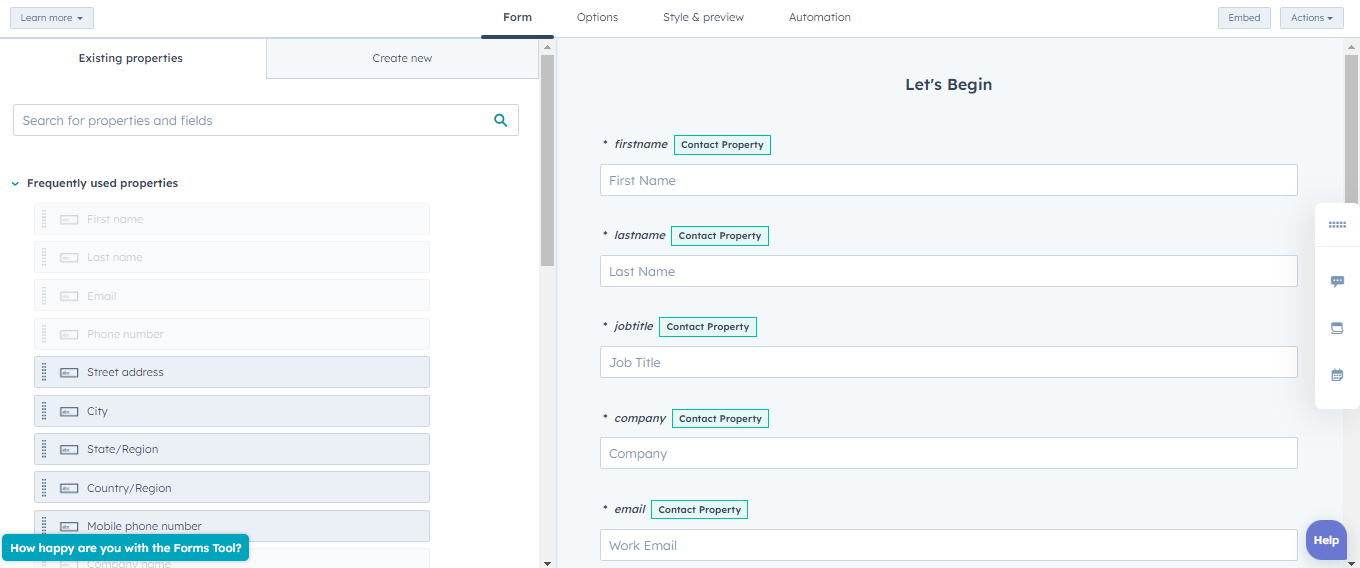 Suppose your company is situated in New Jersey and receives leads from various states across the USA. With HubSpot, you can effectively organize these leads based on their geographical origin, providing you with valuable insights to prioritize and focus on the leads that are coming from New Jersey or its surrounding areas.
Calendar and Task Management
Time management is one of the most crucial aspects of success in the real estate business. Scheduling timely meetings and appearing for those is integral for maintaining robust relationships with clients.

To utilize this HubSpot feature, you can set your availability in calendars for managing tasks without worrying about double bookings or going back and forth with the client to find a meeting time that suits you both. The CRM will show your availability and exclude the already booked slots, making it easier for clients to book appointments.
Call Tracking
Interacting regularly with interested parties to get in touch with you is paramount for the real estate business. HubSpot's click-to-call feature is convenient since users only have to click on the phone number to call them directly, making it easy to track calls.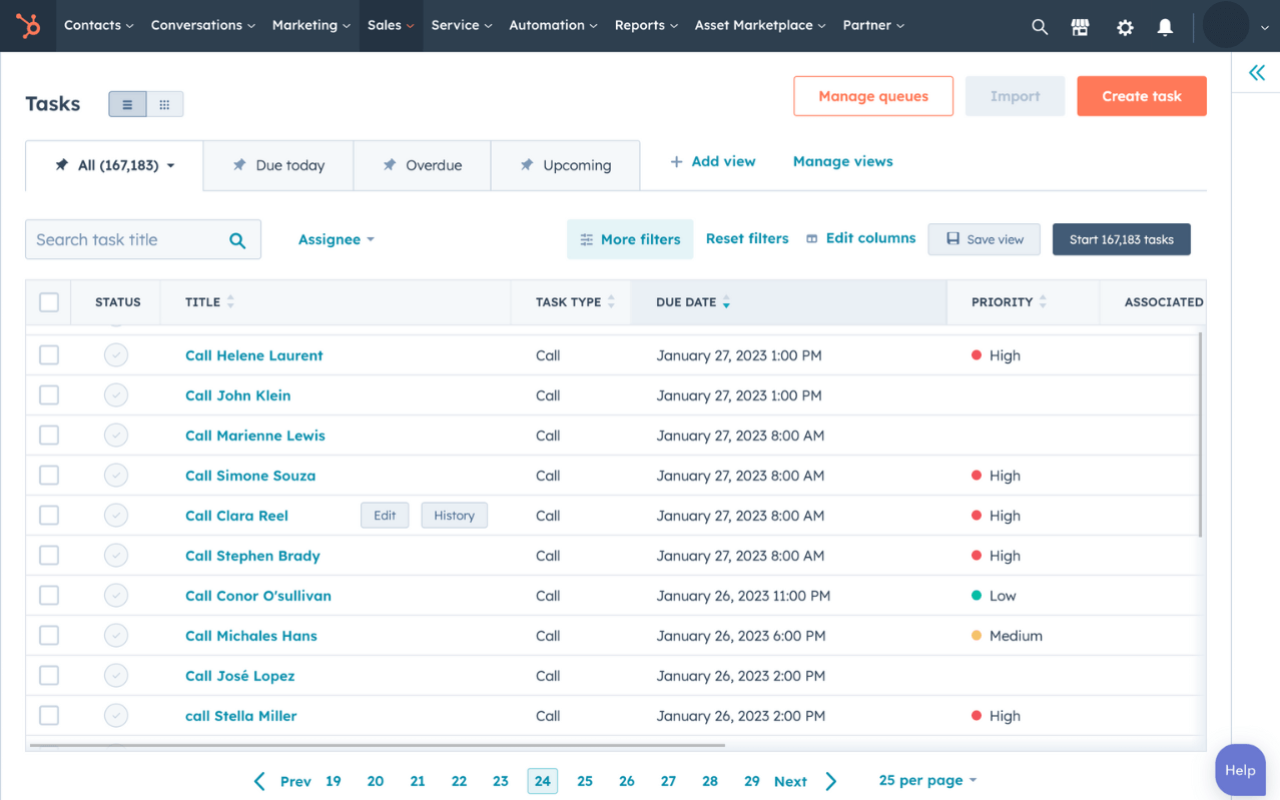 Credits: Hubspot
If a sales representative is busy with numerous clients and fails to recall their discussion, call tracking provides them with a clear view of each customer's needs.
HubSpot Service Hub for Real Estate
HubSpot's service hub is a help desk and post-sales support software solution, that streamlines customer support with multi-channel communication.
Ticketing
The ticketing system in HubSpot for real estate gives an overview of every engagement and provides automated ticket routing, prioritizing issues as needed. HubSpot CRM's ticketing system is valuable for resolving client inquiries and issues.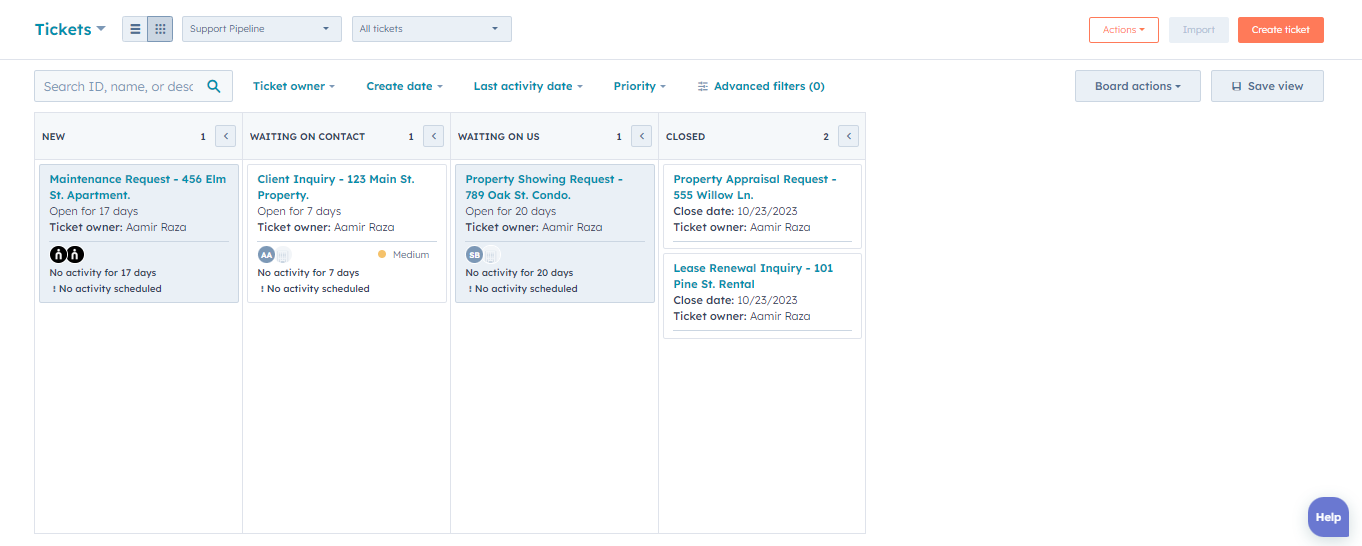 Imagine a client with a query regarding a property they have recently purchased. Using HubSpot's ticketing system, you can create a dedicated ticket, assign it to an agent, and set preference levels. As a realtor, you send automated updates on their ticket's progress and track all client interactions. The ticking system resolves concerns promptly and elevates client satisfaction.
Feedback
Feedback is a highly crucial part of the real estate business. HubSpot's pre-built solutions like Net Promoter Score (NPS), Customer Effort Score (CES), and Customer Satisfaction (CSAT) survey gather insights on client loyalty at every touch point.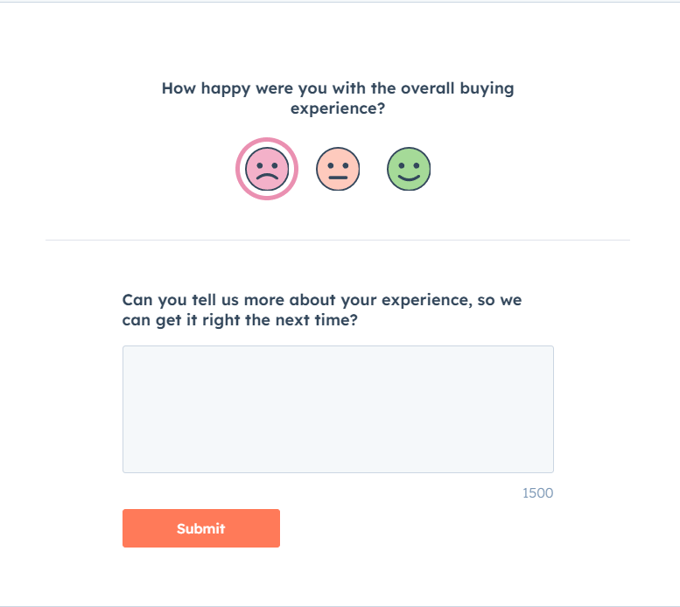 For instance, a real estate company implements HubSpot's NPS and CSAT survey tools to gather valuable customer feedback. After a successful property transaction, they send out automated NPS surveys to gauge overall satisfaction and CSAT surveys to measure specific transaction experiences.
Based on the feedback received, they identify areas for improvement, address concerns, and nurture promoters for referrals, ultimately enhancing their reputation and client relationships.
HubSpot CMS for Real Estate
For real-estate companies, CMS Solution in HubSpot is a great tool for marketers to have their website and property portal within HubSpot so the same HubSpot data-based can be used for website and marketing communication. Following features for important for Real-estate businesses:
Property Listing Website
With HubSpot, real estate agents can create a fully functioning and fully managed property listing or simple promotional lead capturing website which can help in imporving conversion rates.
For instance, with trackable cookies, personalization and recommended properties option can help in improving the engagement of website traffic and will eventually increase the conversion of traffic.
SEO
The real estate business displays property listings based on the availability of the client's desired attributes using HubSpot's content management system (CMS). The agents can create an SEO-optimized website with the drag-and-drop editor.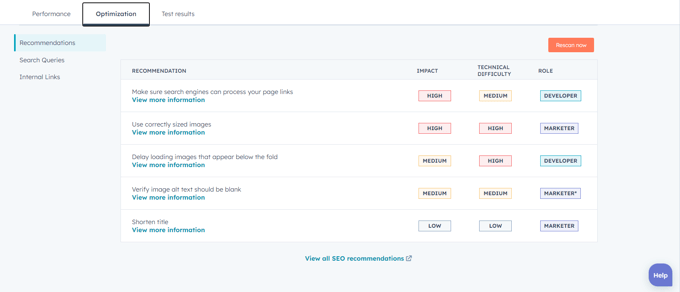 HubSpot SEO tools will identify the pages of blogs that doesn't include proper headings. This feature will point out the mistake and provide recommendations on how to rank the website on Google SERPs.
Limitations of HubSpot for Real Estate
Like every other CRM solution, HubSpot also comes with its set of limitations. These are given below:
Commission Tracking
HubSpot for real estate lacks built-in commission tracking for its employees. Therefore, real estate agents who use HubSpot rely on third-party software platforms for commission management.
Property Management
HubSpot does not offer built-in property management features to manage lease agreements and maintenance requests and needs integration with specialized property management software to utilize these features. Additionally, real estate business management is done only through custom objects feature offered by the Enterprise plan and not in both Starter and Professional plans.
MLS Integration
HubSpot does not allow multiple listing services where sellers can use a unified platform to share information about properties they are trying to sell on multipe property websites.
Conclusion
HubSpot for real estate comes with a comprehensive suite of features, empowering businesses to grow while streamlining operations. The platform provides an all-in-one growth software solution from CRM management to marketing automation services. If you wish to uplift your game during this highly competitive digital age, now is the right time to invest in a CRM tool like HubSpot.