Leveraging HubSpot for Construction Success | Is it Worth It?
Discover the power of HubSpot for construction industry professionals. Uncover whether or not this versatile platform is a game-changer for your business.
---
The global construction industry is a trillion-dollar industry expected to boom more in the coming years. The construction industry's landscape is continuously evolving making it imperative for businesses to leverage new tools and technologies. One such tool is HubSpot. HubSpot provides a wide range of integrated inbound marketing, sales, and customer service tools to empower companies in diverse industries.
Construction companies are looking to re-evaluate their strategies in order to streamline their sales and marketing processes and attract new prospects. HubSpot for construction companies is crucial in this regard. Its marketing and sales automation features help in managing content, lead generation, and to improve communication with clients.
Let's take a glimpse at the emerging trends and innovations of HubSpot for construction success.
Is HubSpot for Construction a Right Fit? - Compatibility Test
HubSpot is a flexible system with numerous functions that help construction companies grow at a larger pace. Before delving headlong into HubSpot, it's important to determine whether this robust platform is a good fit for the specific requirements of your construction company or not. Begin by setting objectives for your company's short-term and long-term goals. Consider your growth projections and assess specific construction business needs.
Let's look at the availability of features in HubSpot that might be essential for construction companies.

| | |
| --- | --- |
| Features Essential in Construction | Availability in HubSpot |
| Lead and Contact Management | ✔️ |
| Sales Opportunity Management | ✔️ |
| Sales Forecasting | ✔️ |
| Workflow Automation | ✔️ |
| Marketing Automation | ✔️ |
| Funnel Tracking | ✔️ |
| Reporting and Analytics | ✔️ |
| Client Communication History | ✔️ |
| Mobile CRM | ✔️ |
| Geolocation Tracking | ❌ |
| Email Marketing | ✔️ |
| Campaign Management | ✔️ |
| Proposal Generation | ✔️ |
| Contract Management | ✔️ |
| Task and Activity Tracking | ✔️ |
| Calendar Integration | ✔️ |
| Payment Tracking | ✔️ |
| Commission Tracking | ❌ |
| Purchase Order Management | ❌ |
| Bid Management | ✔️ |
| RFI (Request for Information) Tracking | ✔️ |
| RFP (Request for Proposal) Management | ✔️ |
| Project Tracking | ❌ |
| Compliance Management | ❌ |
| GIS Integration | ❌ |
| Supplier Relationship Management | ✔️ |
| Subcontractor Management | ❌ |
| Field Service Management | ❌ |
| Architectural Plan Integration | ❌ |
| Supplier Quotes Management | ✔️ |
| Real-time Budget Monitoring | ❌ |
| Change Request Approval | ✔️ |
| Project Milestone Tracking | ✔️ |
| Supplier Payment Tracking | ❌ |
| Project Profitability Analysis | ❌ |
* Most of the items marked as not available can still be managed in HubSpot if Custom Object and the recently introduced feature of CRM Development are used.
HubSpot is unquestionably a right fit for construction companies if you want to use it for customer-facing items like sales, marketing, and customer success but when it comes to operational capabilities there are several limitations as well.
Some advanced features including project tracking, inventory management, cost estimation, and many more can only be done in the enterprise subscription. To reap the benefits of several other features, you may need to consider third-party integrations for better results.
If you have any uncertainties, consult with HubSpot's Expert for tailored recommendations. They will surely assist you in running your operations seamlessly.
Common Use Cases for Construction Companies
HubSpot is a user-friendly CRM software designed to make your tasks easy. It's an all-in-one-place platform constructed with a modular approach, ensuring a seamless adaptation that meets the expanding needs of your company.
HubSpot's Marketing Hub, Sales Hub, and Service Hub are most commonly used by construction companies to manage their undertakings. So, let's take a closer look at HubSpot for construction companies using real-world scenarios:
HubSpot Marketing Hub for Construction Companies
HubSpot's Marketing Hub offers a suite of features specifically tailored to cater to the unique needs of construction companies. These features encompass:
Lead Capturing
Lead capturing and nurturing are intuitive for construction companies for increased revenue and growth. HubSpot has various in-house lead-capturing tools to create valuable content and customized landing pages to attract target audiences. Companies can create forms to integrate into landing pages for easy collection of visitor data.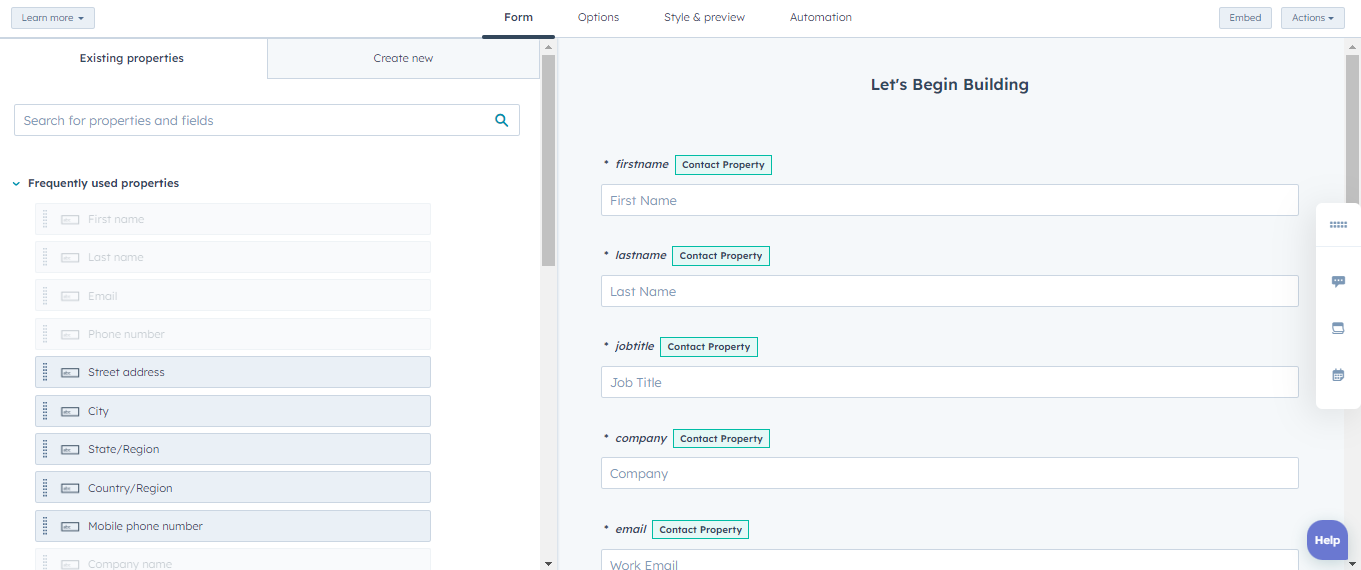 For instance, a construction company may leverage HubSpot to revamp its lead-capturing strategy. They can offer a Building Guide or a Cost Estimator tool as a lead magnet. This may lead to an increase in organic traffic and help the company get more lucrative leads and projects.
Automated Emails
HubSpot for Construction companies allows users to generate automated emails to foster leads over time. Automated email workflows can be configured to function as drip campaigns, effectively delivering a sequence of emails at scheduled times.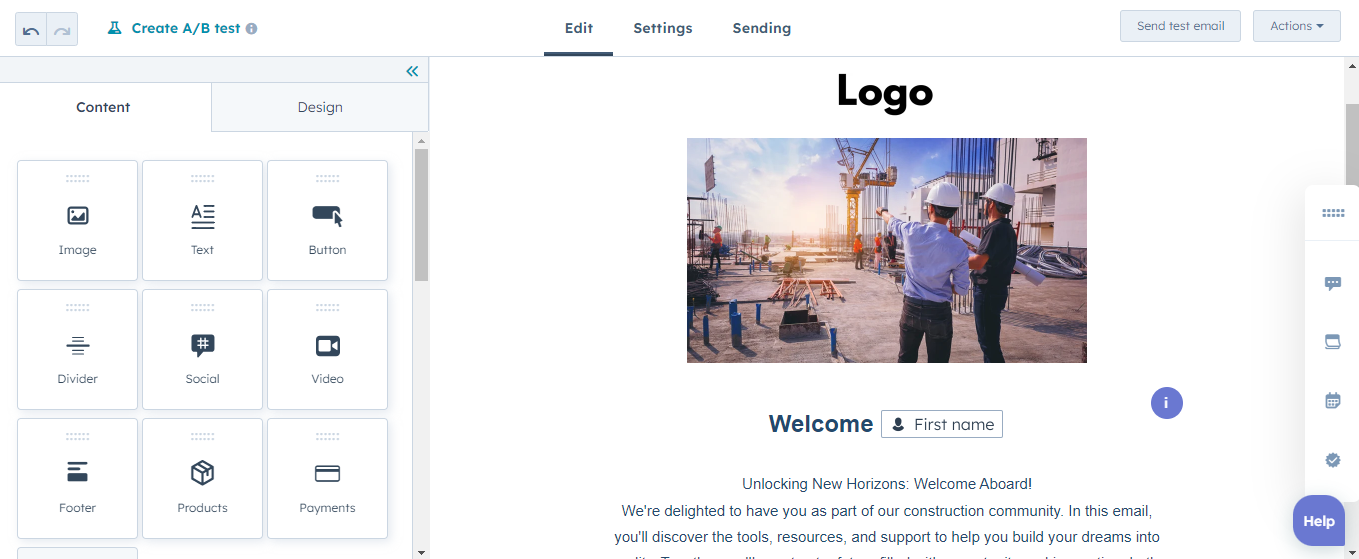 For instance, a contractor may decide to implement HubSpot's automated emails to nurture the leads collected from the Cost Estimator tool and by sharing the relevant cases and strategies to save cost in construction. Using personalized messages and tailored email workflows they can establish a competitive edge in the industry, leading to higher market visibility and conversions.
Marketing Analytics and Reporting Dashboard
HubSpot's analytics and reporting enable construction companies to do in-depth audits of their marketing activities. With data-driven insights, they can alter their marketing strategies, allocate their resources, and optimize their campaigns easily. Companies can consolidate data through marketing platforms, email marketing, and website traffic into one central customized dashboard. With this, they can easily measure their conversion rate as well as analyze problems for each marketing channel.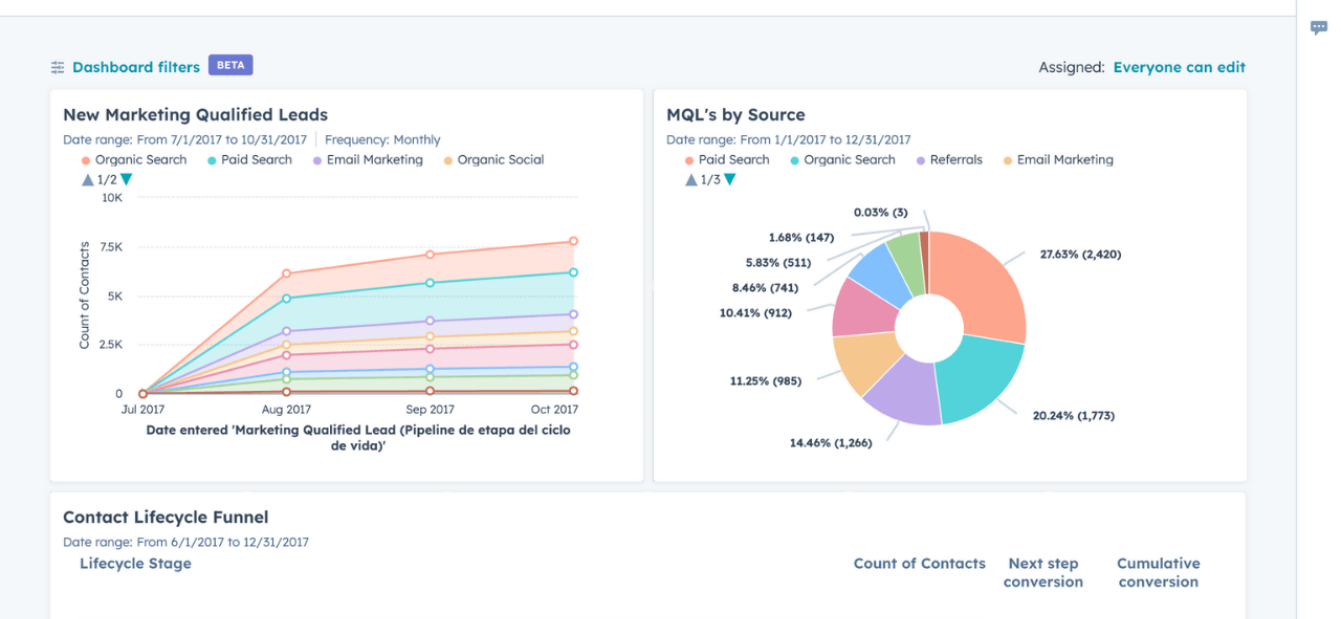 Credits: Hubspot
List Segmentation
HubSpot platform allows construction companies to generate segments or lists according to predetermined criteria. The criteria encompass various factors such as demographic information, behavior, and engagement. Companies can conveniently manage and organize their contact data within the database.

For instance, companies can create dynamic lists and include all potential customers interested in residential projects above a certain price. This can help them send targeted emails to contacts as soon as they are added to the list created.
HubSpot Sales Hub for Construction Companies
HubSpot's Sales Hub presents a robust set of tools designed to empower construction companies in their sales efforts. These features include:
Deal Management
This is another salient feature of HubSpot which helps to keep track of deals or opportunities as they go through the sales cycle. This involves gathering leads through multiple channels and closing deals with those who have an intense desire for the venture.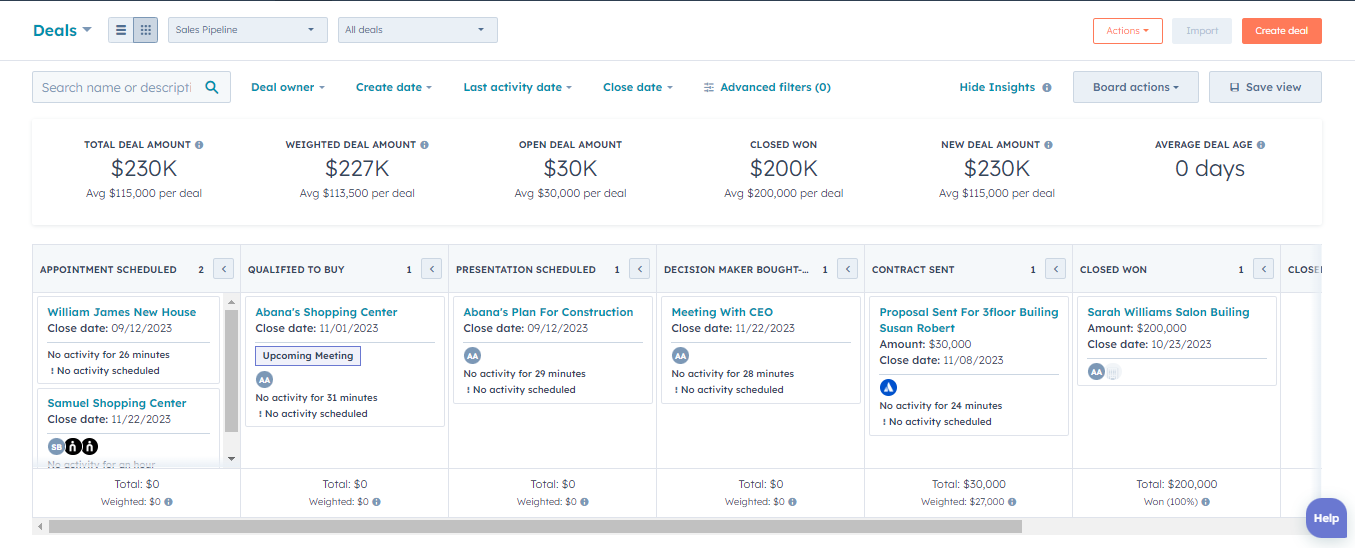 By leveraging HubSpot's Deal Management tool, construction companies can effectively manage their sales pipeline. They can easily track their sales cycle and the revenue associated with it. This helps them in tracking metrics including win rates, deal values, and average time of closing a deal.
Quotes Tool
Quote tools are used by sales leaders to make the overall sales process more efficient. Quotes software lets you create and deliver sales quotations consistent with your business quickly and helps you remain atop. In HubSpot, quotation templates are customizable and can take the tokens from contacts, deals, and line items to minimize friction in the sales process.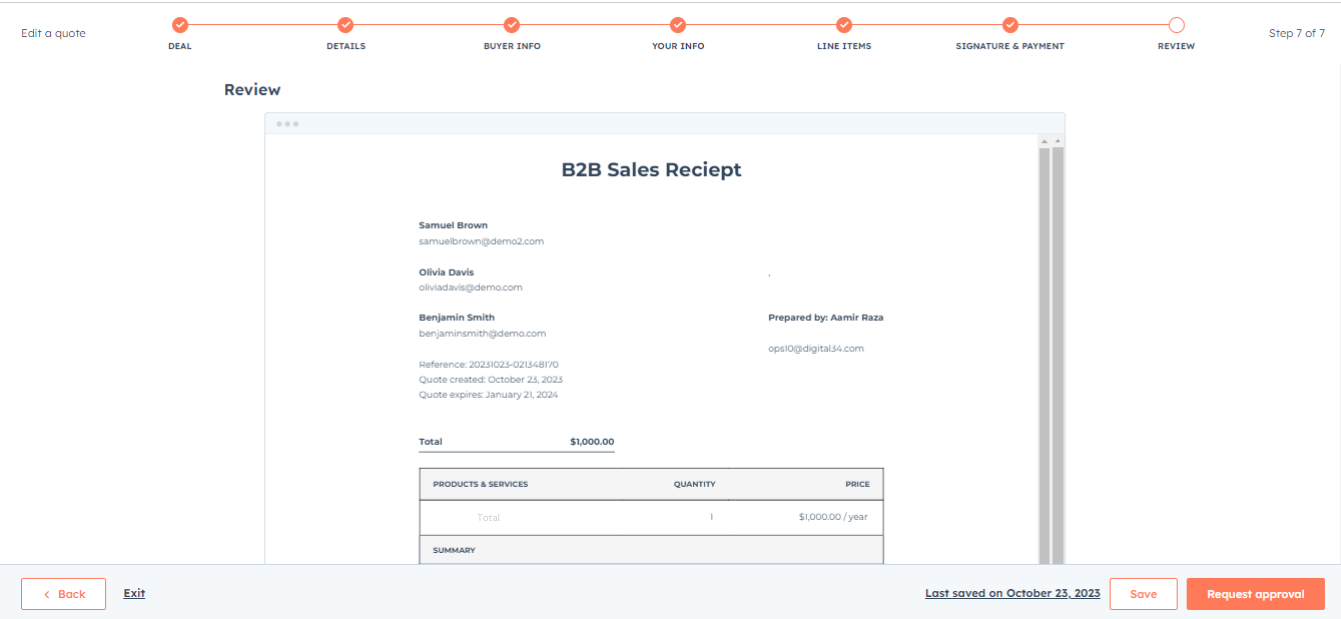 Sales Sequences
The Sales Sequences feature enables users to automate the process of email outreach and follow-up sequences to successfully interact with leads. They can create and customize sequences easily depending on the needs and demands of the construction businesses.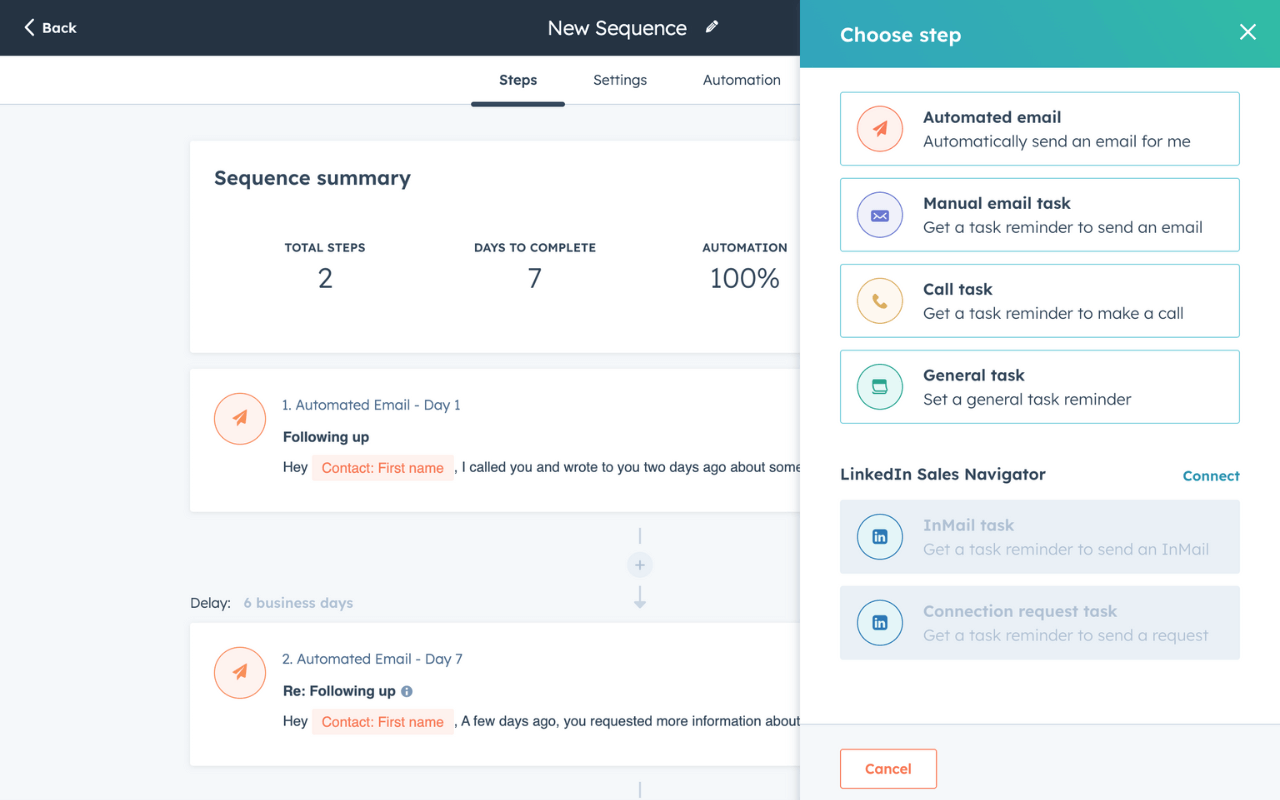 Credits: Hubspot
Referral, proposal, client onboarding, follow-up, and many more sequences can be personalized for better client interaction. This enhances the whole sales process and empowers businesses to fine-tune their reach.
HubSpot Service Hub for Construction Companies
HubSpot's Service Hub provides construction companies with a comprehensive set of features to enhance customer service and support. These features encompass:
NPS, CSAT, and Feedback Surveys
Companies can enhance customer satisfaction using HubSpot's Service Hub which offers customizable NPS, CSAT, and Feedback surveys. The NPS survey measures client loyalty with custom questions. CSAT surveys assess service quality and satisfaction at scheduled times or after specific interactions. Feedback surveys gather input at various project stages.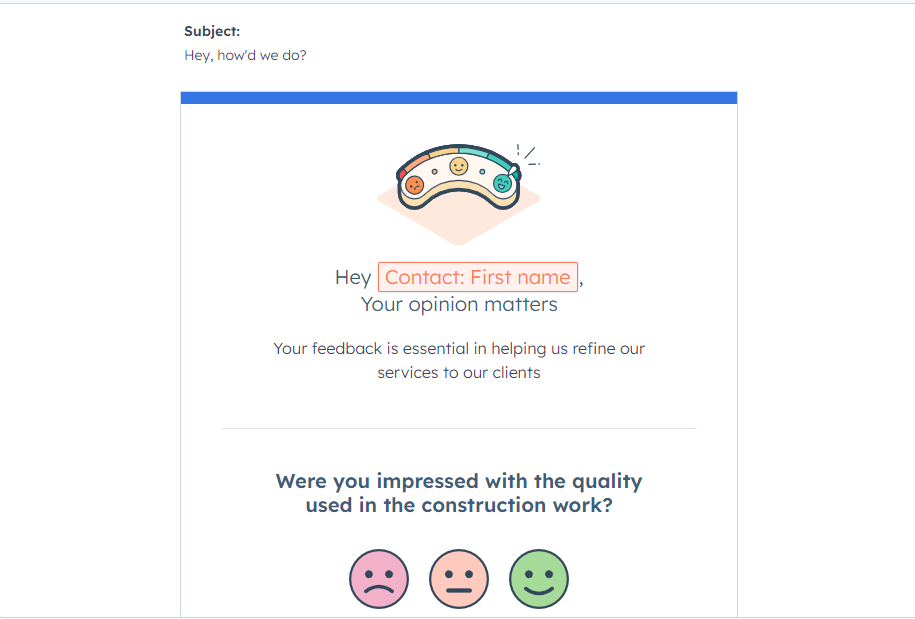 For example, a commercial construction company can successfully employ these surveys to gain valuable insights into its clientele. Using the feedback, they can improve their services making them an incomparable industry leader in the future.
Limitations of HubSpot for Construction Companies
HubSpot CRM indeed offers valuable tools for client interaction and relationship management, which can be beneficial for construction companies. However, it's essential to acknowledge that certain specific requirements of the construction industry, such as equipment and asset management, may not align perfectly with HubSpot's core functionalities. Detailed features like equipment tracking, asset evaluation, GIS tracking, and depreciation calculations often fall outside the CRM's scope.
While the platform does provide an enterprise plan with enhanced customization options, there are still inherent limitations. Some construction-specific tasks may necessitate dedicated software solutions tailored to the industry's unique demands, rather than relying solely on HubSpot for these functionalities.
Conclusion
HubSpot for Construction companies is a blueprint of success in customer-facing departments. Its powerful toolbox allows construction companies to nurture leads and manage everything in-house. To make the most of this platform, construction firms should know what they exactly want from this software. Embracing HubSpot is like giving these companies a secret weapon for long-term success in a cutthroat landscape.