WHAT IS AN INBOUND MARKETING AGENCY?
Inbound Marketing Agency:

Services, Strategies, How to Choose

!
The buyer journey is drastically shifting and so is the approach of smart marketers.
Gone are the days when marketers and sales persons used to push their messages, emails, and calls to sell their products and services.
Customers don't want to be spammed. Customers don't want to be sold to.
This shift in the trend actually shifted the marketers from outbound-focused marketing to Inbound focused marketing.
Before going into the depth of an Inbound Marketing Agency, let's define the difference between Outbound Marketing and Inbound Marketing
Outbound Marketing: The type of marketing that involves activities to outreach and push your message to potential prospects. It includes outbound emails, cold-calling, and disputedly Social Media Ads in many cases.
Inbound Marketing: Type of marketing that involves the process and approach to help your potential customers to identify your company at the right time and at the right place. E.g. Google Search Ads, Google Organic Search, Webinars, etc.
Additionally, Inbound Marketing is very holistic in nature and involves full-scoped activities from lead generation and nurturing to conversion and delight.
Let's come to the core question "What is an Inbound Marketing Agency?"
An Inbound Company is mainly an SEO Company: Not really
An Ads Management Agency: It's much more than that
A Website Development Firm may be: Not at all
An inbound marketing agency, driven by Inbound Methodology, help businesses in attracting, engaging, and delighting their customers.
An Inbound Agency holistically covers all aspects of Inbound Marketing including traffic generation, traffic conversion into leads, lead nurturing, and lead conversion in the implementation and optimization of marketing campaigns.
What is Inbound Methodology?
Inbound Marketing Agencies are driven by "Inbound Methodology" as this methodology covers 360-degree aspects of customer life-cyle and is propagated by many Inbound Marketing Giants like HubSpot and Marketo.
Both HubSpot and Marketo, identify three potential approaches to see Inbound Marketing:
Attract:
It includes strategies and actions which are widely known as Inbound Marketing as this approach solves the most common problem businesses face i.e. attracting new potential customers.
This approach is focused on the creation of useful content such as blogs, whitepapers, and videos to establish authority in a specific niche.
Engage:
An approach to align solutions with customers or prospects' problems, present viable solutions, and create and deliver content with a focus on problems and potential solutions of prospects.
Delight:
Empowerment of customers with the focus on support or post-sale processes to convert customers into Evangelists or Brand Advocates
HubSpot presents Inbound Marketing Methodology in the form of Flywheel to share the inter-dependence of all three pillars for the creation of a successful growth engine.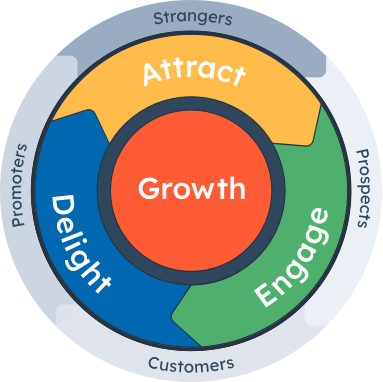 Why do you need an Inbound Strategy?
93% of Buyers
93% of buyers use search to begin buying process.
47% More Purchases
Nurtured leads make 47% more purchases than un-nurtured leads
61% Less Cost
Inbound leads Cost Per Lead is 68% less than Outbound lead
Inbound Marketing Services
Because of the wide scope of Inbound Marketing Methodology, a lot of services fall under the aspects of Inbound Marketing but we shortlisted the crucial and common ones being provided by Inbound Marketing Agencies.
PLANNING
Strategy & Funnel Building
Strategy is one of the most important services of any Inbound Marketing Agency as it sets the clear direction of all efforts and it also differentiates a well-structured agency from One-off freelance or In-house projects related to Inbound Marketing.
Based on our Inbound Audit results, 90% of the companies are either doing blogging or social media postings or working with SEO teams, but, most of those things are not planned and aligned and are getting wasted.
What's the purpose of hiring an SEO who will just do spammy link-building without over-hauling your content planning?
Why do you need blogs on a website when you don't even know the relevant keywords, their difficulty, the prospect of being ranked, and the process to convert them into customers?
Key elements of a good inbound marketing strategy should include:
Identification of SMART goals and KPIs for Inbound Marketing efforts

Persona and Ideal Customer Profile (ICP) development

Analysis of key competitors with a focus on their inbound efforts, strategies, and results

Selection of Inbound Marketing traffic generation channels

Research and finalization of potential topics, brand message, and keywords

Identification of traffic conversion mechanism

Research and planning on lead scoring and conversion mechanism

Development of concrete monitoring and evaluation (M&E) framework.
IMPLEMENTATION
Content Creation
For any Inbound Marketing effort "Content is the King".
A great inbound marketing effort is directly linked with great content building and vice-versa.
Content creation is not important just at the traffic generation stage but it's equally important during nurturing, closing, and post-sales processes.
A successful Inbound Marketing Agency used to plan, create, and manage content creation in an effective and efficient manner.
IMPLEMENTATION
Growth Driven Websites
Unlike traditional website building, growth-driven website building follows a lean approach towards design and development where marketers control the overall process instead of the developers.
Inbound Agencies involve developers to set up themes and other settings but their marketing teams used to take the role of analysis, iteration, and publishing of content to make it an efficient and data-driven process.
IMPLEMENTATION
Search Engine Optimization (SEO)
SEO, which is widely known as (or confused with) Inbound Marketing, is an integral part of any Inbound Marketing effort as Organic Search Engine results still drive the majority of the visitors to a website.
SEO services revolve around:
On-Page optimization which covers the technical and structural changes on web pages to give clear direction to search engines and to enhance your visitor's experience.
Off-Page SEO mostly covers the authority-building activities in a specific niche in close coordination with third-party websites.
IMPLEMENTATION
Pay Per Click (PPC) Ads
PPC Ads, like organic search traffic, is considered as one of the most important traffic generation channels.
PPC Ads management includes the management of keywords, bidding strategy, audiences, retargeting, and conversion pages to maximize the Return on Investment (ROI).
IMPLEMENTATION
Social Media Marketing
Social Media Marketing falls under the grey area between Inbound and Outbound Marketing but Smart Inbound Marketers use social media
For publishing and promoting their content
Re-targeting visitors and leads at various stages of the funnel; and
Traffic generation on low-key conversion points like webinars, ebooks, and events.
IMPLEMENTATION
Lead Capturing Mechanism
Most marketers focus on CPC and traffic on websites but don't focus much on the lead capturing mechanism, especially on the content pages.
Inbound Marketing Agencies are used to create and test conversion mechanisms and conversion offers to boost the conversion rate of visitors into leads.
IMPLEMENTATION
Scoring and Qualification
Leads generated via Inbound Campaigns are not always qualified and sales-ready.
Inbound Marketing Agencies used to work with clients to identify qualifications and scoring criteria to hand off only sales-ready leads to sales team members.
IMPLEMENTATION
Lead Nurturing Processes
Leads that are not ready for the sales process are being nurtured by marketers to increase their scoring and to move them to the qualification stage with content like case studies, webinars, and relevant blogs.
Inbound Marketing Agencies help with content development and automation building to keep them engaged via automated actions.
MONITORING AND EVALUATION
A/B Testing and Process Optimization
Testing and Optimization is a continuous process that starts from day 1 of the implementation phase.
A/B testing is mostly used for emails, landing pages, conversion forms, and website page optimization but many Inbound agencies use multi-variant testing as well to optimize their campaign.
MONITORING AND EVALUATION
Reporting and Analysis
Reporting and Analysis is also an ongoing process based on the KPIs defined in the Planning phase.
Reports help in structured monitoring of the campaign and evaluate based on the bench-mark and targetted values to decide on the performance of the campaign.
Core Team in an Inbound Marketing Agency
Inbound Strategist
Thinker and Strategist who can connect dots, analyze data, and make informed decisions.
SEO Manager
SEO Manager used to take direction from strategist and manage content writers and authority builders with the goal of organic traffic increase.
Content Writers
Creative team members with the ability to research and produce authority content.
PPC Manager
Paid Marketing rockstar that can build, manage, and optimize paid ads campaigns on various networks.
Website Manager
The one who can take the lead on the implementation of the growth-driven website.
Authority Builder
Outreach Ninjas who can communicate and negotiate with third-party sites for authority building.
Inbound Marketing Agency vs In-house Team
In-House Team
An in-house team is quite knowledgeable on products or services and communication is relatively easy.
Inbound Marketing is a team effort and for small teams, it's not possible to have an internal team.
SEO Manager
Inbound Agencies used to work with multiple clients and possess knowledge and experience of various campaigns and strategies.
Agencies are well-suited for small-size companies while a cost-effective and efficient option for mid-sized or large corporations.
How to choose an Inbound Marketing Agency?
Choosing the right agency is more important than deciding on pursuing Inbound Marketing as failure is more dependent on the execution team than the product or market.
To identify the right team, companies use various factors or criteria to identify e.g.
Referrals or Existing Networks: Still a good criteria provided that referring parties specifically used Inbound Marketing services
Published Case studies: A decent criteria but thousands of case studies published with Inflated numbers and one side of the story make it really a difficult option.
Ratings and Reviews: Usually companies fell prey to ratings on third-party sites which are "managed" by many (if not all) agencies.
But we recommend one simple criterion which works like a charm for many companies.
"Practice what you preach"
If an Inbound Marketing Agency doesn't have a good Inbound Marketing set up for itself, it's not a qualified Inbound Marketing Agency.
To choose, just follow these three steps:
STEP 1
Search "Inbound Marketing Agency" or similar keywords
"Inbound Marketing Agency" is a critically important keyword and If an agency can rank itself organically among thousands of agencies then they are capable to rank your company keywords too.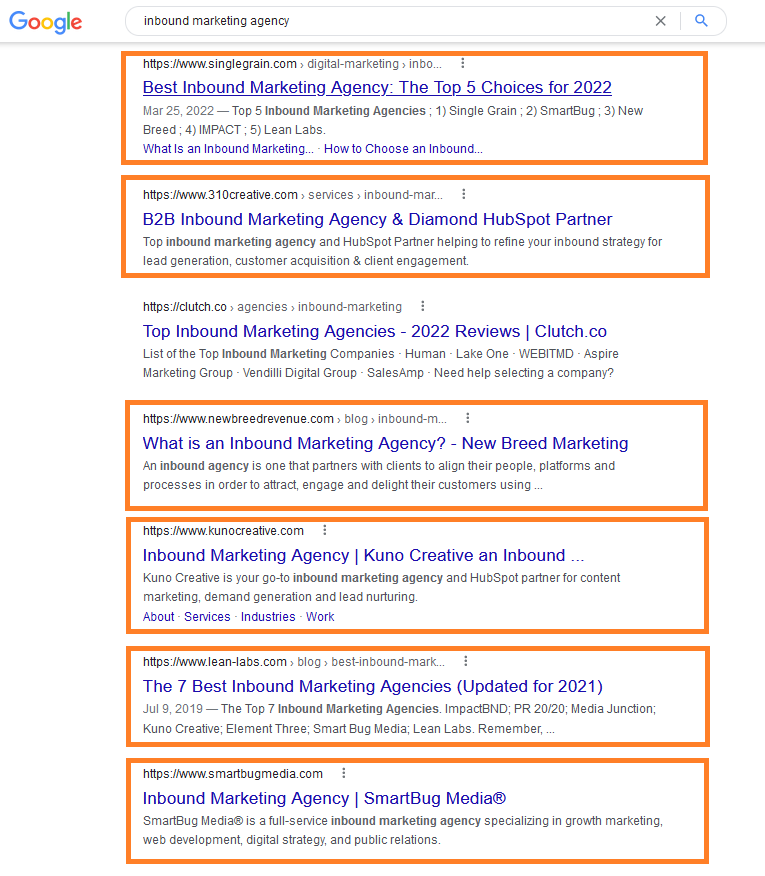 STEP 2
Identify and shortlist the top 10 agencies in organic search
Ignore directories and shortlist top 10 agencies coming in the organic search result. Contact all 10 of them to schedule a free consultation or discovery calls.
STEP 3
Select the best fit based on pricing, reviews, and other factors.
Now is the time to leverage other criteria like their reviews, industry focus, budget, process, and previous experiences to decide a suitable team.
Why 3 & Four As Your Go-To Inbound Marketing Agency?
Practicing Agency
3 & Four practice Inbound Marketing as a core lead generation channel and that is evident from various critically-important keywords like "HubSpot Migration" "HubSpot Consulting" "Why HubSpot" etc.
Cost-Effective Solutions
Having a global operations team provide us the opportunity to pass cost-benefit to our clients.
Compared to many big agencies, 3 & Four is competitive on pricing and well-suited for companies less than 100 employees.
Highly Rated
3 & Four's team is rated 5 stars based on 100+ reviews on various websites and directories including HubSpot Marketplace making it a go-to option for many companies.
Request a meeting directly with Marketing Strategist
Discuss your needs, define solutions, and develop a working framework in the call.