7 Best Pipedrive Alternatives & Competitors for Sales Teams in 2023

Pipedrive is a reputable cloud-based sales-oriented customer relationship management (CRM) software that helps small and medium-sized enterprises to drive more sales.
In 2021, Pipedrive was declared the top-rated sales CRM software by TrustRadius, and it still holds the same momentum with an 8.5 overall rating.
If you're specifically looking for a CRM and Sales focused tool, Pipedrive would probably be on your radar. The software offers all the latest and necessary sales and automation features. Let's have a quick look at the prominent features that Pipedrive offers.
Features to Get You More Revenue
Deals and leads management: Pipedrive constructs your sales pipelines in such a way that it streamlines the sales process. In addition, it manages deals in an organized manner to streamline the entire sales process.


Automation: Repetitive tasks that consume a lot of time are shrunk with the help of automation.


Communication tracking: Pipedrive comprehensively keeps track of all the communication platforms, such as calls and emails in an organized manner. Besides this, it provides complete contact communication history with full visibility to have a hawkeye view.

Privacy and Security: Business data holds the utmost importance in today's digital world and Pipedrive provides high-end privacy and security to ensure maximum transparency.

Adequate Integration: Pipedrive takes your sales automation and returns on investment (ROI) to the next level with 300+ integrations. Zapier, Microsoft Teams, HubSpot, QuickBooks, and Slack are among the leading integrations its offers.

Insights and reports: Get precise insight and reports on your overall business performance. It also helps in creating more effective future plans.

Pricing:

It comes with four different pricing plans, starting from $9.90/month/user, and going up to $59.90/month/user in its Enterprise Plan.

No software can be considered the perfect solution as there is always some room for improvement and that is why we see regular updates for the customers.
The same phenomenon goes in the case of Pipedrive. Despite offering numerous top-notch features, it has some problems in different domains for which people look for Pipedrive alternatives.

Prominent Reasons Why People Look for Pipedrive Alternatives
Scope: It's completely inclined toward sales and lacks other marketing and customer service capabilities. Therefore, it does not suit the needs of all and for this reason, many enterprises start considering Pipedrive alternatives.


Customization: In comparison to other sales-oriented CRMs, Pipedrive offers fewer customization options especially when it comes to completely customized structures and objects.


Ecosystem: The software doesn't have a vast partner or community network for help and support. It has 424 technology partners, which is an adequate number but not comparable to the likes of HubSpot and Salesforce. Also, the majority of the partners don't seem to be Pipedrive focused making it hard for users to find a reliable servicing partner. This might not be an issue while starting and setting up the system but during scaling stages, it sometimes becomes a deal-breaker.

Pricing: Although it offers reasonable pricing in comparison to top-tier CRM tools, it's still a bit costly for small businesses that aren't ready for significant investment.

Features: Pipedrive includes all the fundamental sales feature to get your business on track but it lacks the latest features that you mostly see in top-tier software e.g. advanced automation, sandbox environment, completely customized views, etc.

Scalability: Scalability is quite a subjective matter and it depends on the existing user base among enterprises, perception of the tool, a network of sales teams and partners, enterprise-grade features, and the reliability of the tool. Although Pipedrive is quite good in features but not considered Enterprise-grade and companies generally prefer other options during the scaling of the operations.
Top 7 Alternatives of Pipedrive
1. HubSpot
HubSpot is a top-tier CRM with dedicated sales, marketing, CMS, and support tools and functionalities. HubSpot is considered a prominent Pipedrive alternative because of its recognition in the tech community, ease of use, free products, and wide scope.
Compared to Pipedrive, HubSpot offers more features and scalability to satisfy your enterprise-grade requirements. Moreover, the level of integration and reliability is also high in HubSpot. It serves our sales operations to the fullest with its comprehensive sales pipelines.
The only point where HubSpot shows a significant difference is the pricing which is quite high in comparison to Pipedrive. Starting from $45/month, it goes right up to a massive $1200/month. But, all the other features make this price difference quite logical.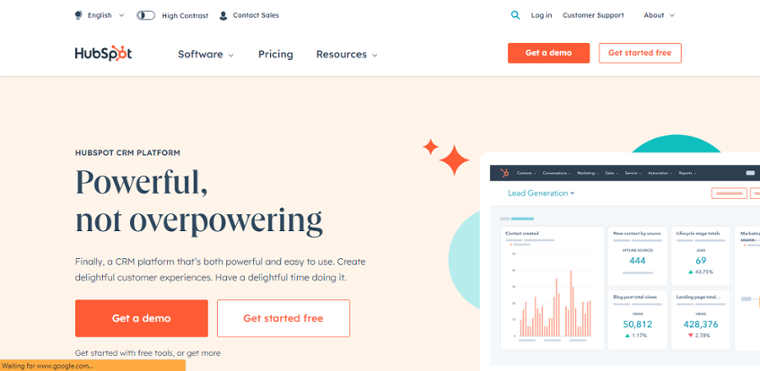 | | |
| --- | --- |
| Factor | HubSpot Compared to Pipedrive |
| Scope | CRM Platform focused on Marketing, Sales, Operations, and CMS |
| Customization | Highly Customizable and Easy to Personalize according to your Company's needs |
| Ecosystem | Currently has 6,773 Solution Partners |
| Integrations | Offers around 1300+ Integrations |
| Pricing | Starter Plan is inexpensive, however, Enterprise and Professional Plans are quite expensive. |
| Features | Offer a lot of Unique and Latest Features that cater to Marketing and Sales Needs |
| Scalability | Highly Scalable for your Growth Needs |
| Adoption | Very easy to use interface and is very beginner friendly |
| Reliability | Considered quite a reliable tool in the industry |
Pipedrive is a great choice to have if you're looking only for excellent sales automation software. However, HubSpot is miles ahead as a complete CRM, sales, and marketing solution.
Pipedrive on G2

HubSpot on G2

2. Salesforce
Salesforce is a top-end sales and CRM software that offers a seamless experience to provide exponential sales growth and is a common Pipedrive alternative in the enterprise niche.
Salesforce offers high customization along with a broader ecosystem to help you achieve maximum results. Moreover, It also offers one of the best integration options with third-party tools, high scalability, and a wide range of sales features.
Altogether, it's top-notch software with very high reliability. As for per-user pricing, Salesforce plans start from $25/month/user and reach up to $300/month/user with the unlimited plan. It is costly in comparison to Pipedrive but offers more features.
Also, Salesforce is a bit complicated when it comes to user interface and the end-users sometimes find difficulties in its adoption.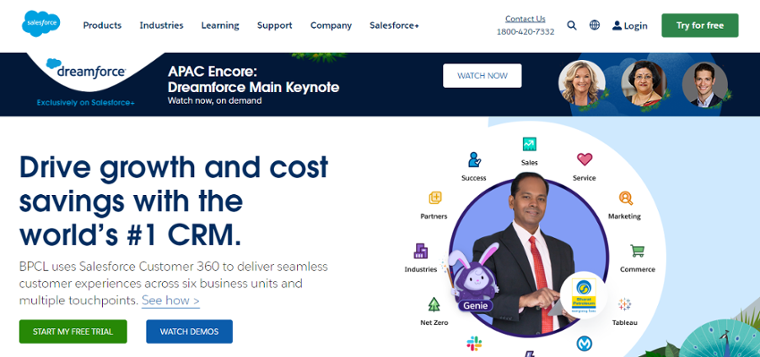 | | |
| --- | --- |
| Factor | Salesforce Compared to Pipedrive |
| Scope | CRM Platform focused on Marketing, Sales, Commerce, Service, and IT Teams works |
| Customization | A very High Degree of Customization is Possible |
| Ecosystem | Currently has 2000+ Certified Consultants |
| Integrations | Offers 4000+ Integrations |
| Pricing | Very Expensive Subscription. |
| Features | Offer a lot of Features for Marketing and Sales |
| Scalability | High Scalability for Growth Firms. Might be considered overkill for small and medium firms. |
| Adoption | Difficult Adoption |
| Reliability | Highly Reliable |
Pipedrive is a good option if you are a small to medium-sized business, just started to explore different CRMs, and don't want to complicate things a lot. It provides simple business processing that saves a lot of time.
On the other side, Salesforce is a full-fledged CRM with the capabilities to handle highly complex business structures. It offers customization to the fullest, allowing you to align business operations according to your requirements.
Moreover, Salesforce is highly credible for accurate reporting. Salesforce would be a better Pipedrive alternative if you are a large or medium-sized enterprise that is growing exponentially.
Pipedrive on G2

Salesforce on G2

3. Freshsales
Freshsales is a cloud-based CRM software that assists businesses to manage all their sales-related matters and is considered a great alternative to Pipedrive.
It has a wide scope and offers sufficient customization to streamline things according to your ease. In comparison to Pipedrive, it has a comparable ecosystem and but the integration landscape with third-party applications isn't quite impressive.
Freshsales offers decent scalability which is enough for small and medium-sized businesses to manage everything without any interruption but Freshsales like Pipedrive isn't quite popular among Enterprises.
The price range starts from $15/month/user and ends up at $69/month/user. It's the closest competitor to Pipedrive in terms of pricing. On top of this, its user adoption is a bit slow due to the complex user interface and experience compared to Pipedrive.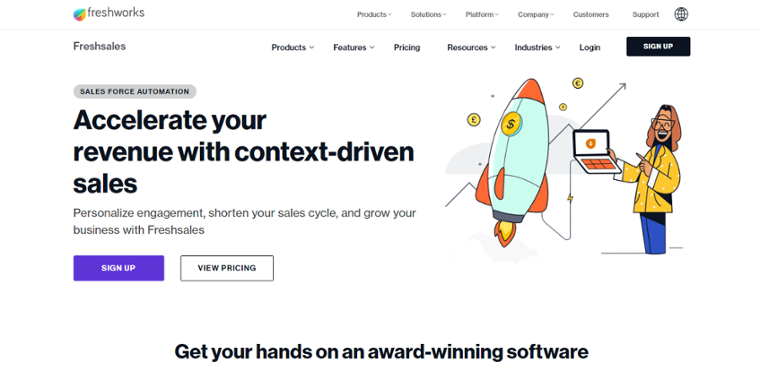 | | |
| --- | --- |
| Factor | Freshsales Compared to Pipedrive |
| Scope | Cloud-based CRM with a focus on sales |
| Customization | Enough customization for personalizing engagement |
| Ecosystem | 1000+ Solution Partners are available |
| Integrations | |
| Pricing | |
| Features | Offers a decent range of modern-day sales and marketing features. |
| Scalability | Moderately scalable for SMBs, hospitals, SaaS, and other industries |
| Adoption | A bit time taking to learn for Non-Tech personnel |
| Reliability | Low reliability as compared to Pipedrive |
Pipedrive is the best fit for small businesses and teams with straightforward business operations. It is also good for beginners with little to no previous experience with CRM platforms.
On the other side, Freshsales is good when you leverage the Freshworks ecosystem which comes with support, marketing, calling, etc. tools. If we compare Freshsales as a standalone tool then it may not be an effective Pipedrive alternative.
Pipedrive on G2

Freshsales on G2

4. Zoho CRM
Zoho is a popular CRM that includes some incredible sales features, such as visitor tracking, smart chatbots, and contact management. Zoho has a very wide ecosystem with various resources to learn about its core functionalities and is considered a good wide-scoped Pipedrive alternative.
You can also achieve an adequate level of customization but the number of integrations is not more than what you get in Pipedrive. It is more of a complete software suite rather than just CRM software, where you can manage your own team as well.
The best part of Zoho CRM is its pricing as it's a bit cheaper than Pipedrive, starting from just $14/month/user to $52/month/user in its ultimate plan and therefore, making a good Pipedrive alternative. But, end-users may take a bit longer in getting used to it due to its user interface, which somewhere disturbs overall productivity.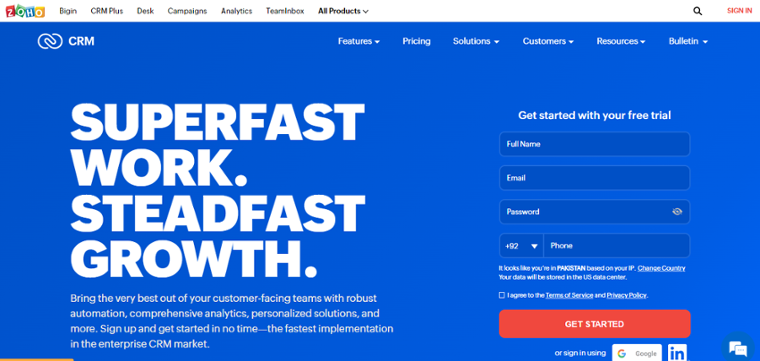 | | |
| --- | --- |
| Factor | Zoho CRM Compared to Pipedrive |
| Scope | A complete business suite |
| Customization | Can be modified as needed to fit your business |
| Ecosystem | Currently has 489 technology and 159 channel partners |
| Integrations | Offer 200+ integration |
| Pricing | Cheaper in comparison to Pipedrive |
| Features | Plenty of features to uplift your CRM and sales |
| Scalability | Very high scalability for even larger organizations |
| Adoption | It requires time to learn the platform |
| Reliability | Heard several reviews about bugs and interface issues |
Pipedrive offers high-end features, such as visual sales pipelines, customizable pipelines, and lead segmentation that are very helpful for sales teams. It is a great tool if you're looking for a simple and easy-to-use CRM that frees you from complexities.
Zoho CRM, on the other side, is a comprehensive software suite that covers a wide range of features from CRM to sales, and marketing.
It also has extended modular capabilities to handle other aspects, such as customer service and inventory management along with sales operations. All-in-all, Zoho is a much better option for enterprises looking for a comprehensive software suite but as a Standalone tool, it's not quite effective.
Pipedrive on G2

Zoho CRM on G2

5. Copper CRM
Copper is the finest software and a great Pipedrive alternative if you're too dependent on Google products. It offers impeccable integration with Google Workspace to put everything in a single pane of glass.
Both Copper CRM and Pipedrive are on par when it comes to scope, customization, and scalability.
The pricing begins from $23/month/user and extends to $99/month/user, which is a bit more expensive than Pipedrive. Moreover, its user adoption is also difficult just like the majority of other alternatives.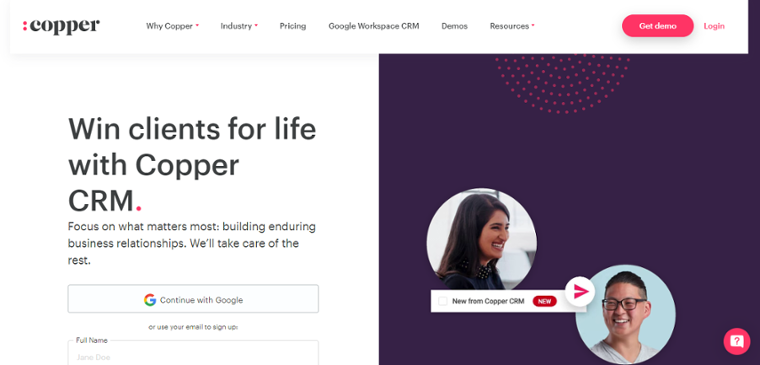 | | |
| --- | --- |
| Factor | Copper Compared to Pipedrive |
| Scope | Focused on integration with Google Workspace |
| Customization | Offers the same level of customization |
| Ecosystem | Don't have reliable information here |
| Integrations | |
| Pricing | Similar pricing to Pipedrive |
| Features | Wide range of CRM features |
| Scalability | Allows to scale up with growth but not popular among enterprises |
| Adoption | Adoption is similar to Pipedrive |
| Reliability | Equally reliable to Pipedrive |
Both Pipedrive and Copper are good CRM platforms with plenty of excellent features. It's hard to pick one as a clear winner, but we will make it easier for you.
Copper is definitely a better choice if you work with Google Workspace as it provides complete integration with it. It is also good for handling your project management operations.
Pipedrive, in comparison, is simpler, intuitive, and affordable with some good sales, monitoring, and reporting features. Besides Google Workspace, it also works well with other office suites, such as Microsoft 365.
Pipedrive on G2

Copper on G2

6. Insightly
If you want to achieve multiple sales goals through a single CRM software, Insightly could be the perfect Pipedrive alternative for you.
Insightly offers high-end lead routing, workflow automation functionalities, and complete tracking, which are fundamental features of any good sales tool.
Getting into comparison with Pipedrive, Insightly offers a comparable ecosystem, integration, scalability, and reliability. But, it has an edge over Pipedrive in customization with more options. It allows adding of custom data fields and models.
Moreover, it provides features like data capture, display, and field validation. Insightly comes in three different plans, starting with $29/month/user to $99/month/user for enterprises. Its more popular plan is $49/month/user which is comparable with Pipedrive's Professional plan.
Seamless user adoption is again a little difficult in the case of Insightly which puts a negative point to its overall score.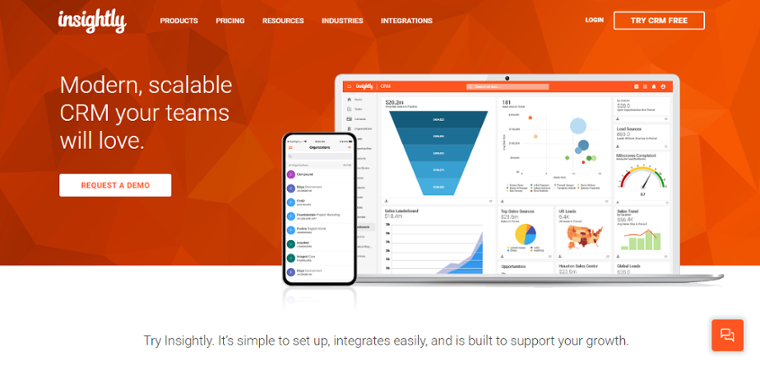 | | |
| --- | --- |
| Factor | Insightly Compared to Pipedrive |
| Scope | Focused on providing scalable CRM |
| Customization | High level of customization |
| Ecosystem | - |
| Integrations | Offer 2000+ integrations |
| Pricing | Similar pricing for CRM but the all-in-one solution is quite expensive |
| Features | Plenty of features for CRM, marketing, and service |
| Scalability | Scalable according to requirements |
| Adoption | Difficult to adopt and require professionals support |
| Reliability | Equally reliable and offers efficient tools |
The best part of using Pipedrive is its simplicity where you hardly face any user interface complications and bugs. This clear and easy-to-use solution allows sales teams to jump directly into working without a lot of time spent on learning.
Insightly is a more customizable and a bit more scalable solution compared to Pipedrive which makes it a great alternative to Pipedrive.
Pipedrive on G2

Insightly on G2

7. Monday
Monday is basically a cloud-based project management platform with a dedicated feature of sales and CRM. It wasn't a direct alternative to Pipedrive till last year but now it became a go-to option for small sales teams that are already using Spreadsheets for lead tracking.
As a multiple-functionality software, it has a larger ecosystem with wide scope and comparable customization to organize things more effectively. You can attain a high level of integration with tools like slack, Dropbox, and Microsoft Teams.
In comparison to Pipedrive, Monday is more inclined towards task and project management. On contrary, Pipedrive has dedicated sales features like lead capturing and segmentation.
Monday's Sales & CRM tool is quite less expensive than Pipedrive with a starting price of $10 per seat/month which goes up to a maximum of $24 per seat/month.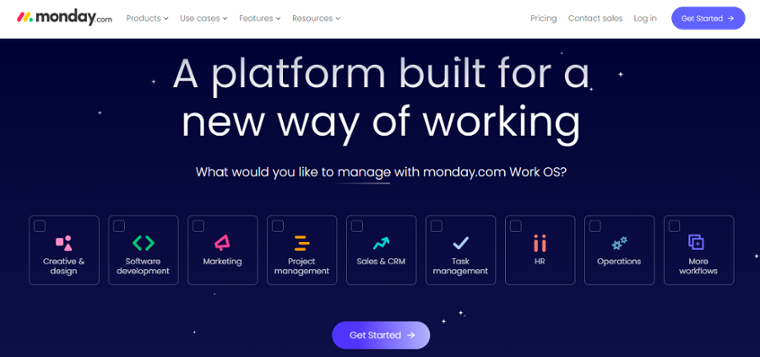 | | |
| --- | --- |
| Factor | Monday Compared to Pipedrive |
| Scope | Covers a wide range of domains, including CRM, sales, marketing, software development, and project management |
| Customization | Highly customizable templates to start quickly |
| Ecosystem | |
| Integrations | Currently offers 40+ Integrations |
| Pricing | Pricing is comparatively low than Pipedrive |
| Features | Less number of built-in sales features than Pipedrive |
| Scalability | Low scalability as the tool is primarily a modern version of Google Sheets and isn't a long-term alternative to a CRM |
| Adoption | Easier to adopt for new users |
| Reliability | Low reliability as a CRM |
Pipedrive got built-in sales and automation features for modern sales teams while Monday is mainly a modern version of Google Sheets for teams starting out and need something customizable yet easy to use.
Monday is a great option when you need complex process management and have a small team but isn't a great option at all when you need a reliable CRM system for a big sales team.
Pipedrive on G2

Monday on G2

Final Thoughts
Pipedrive is economical and offers a variety of sales automation features to uplift your overall ROI. But, there are a couple of points which you need to consider before opting for it.
It has scalability issues and may interrupt your business continuity if you're supposed to turn into a bigger enterprise from a small to medium organization. It's too focused on Sales which is both an upside and downside depending upon your requirements.
That's why people look for Pipedrive alternatives so we brought the seven best alternatives for you. It's now easier to choose the best for your organization according to your utmost requirements.
In the article, our team presented researched facts and personal opinions based on our own experienced and our client's experiences.